Alumni Share "Legacies of Success"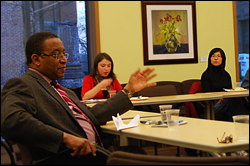 Randall Pinkston '72, P'05, a national correspondent for CBS News in New York City, credits Wesleyan's WESU 88.1 FM radio for launching his life-long career.
"When I was a student, I heard about WESU installing a new transmitter and I wondered, how can I be on a radio station," Pinkston says. "I took the training required by the FCC at the time, passed a test, and was given a one-hour show, five days a week. I called it 'Soul Session.'"
Pinkston recruited four other students, and replicated shows broadcasted in their hometowns including R&B and jazz. On the 55th minute of every hour, they would transmit Metromedia news and read the weather over the airwaves.
"This was my first introduction to broadcasting," he says.
On Feb. 24, Pinkston shared his Wesleyan memories and career path with 20 students during an "Unconventional Wisdom: Legacies of Success" seminar, organized by the Career Resource Center (CRC).
The series is designed to bring prominent alumni of color back to campus to provide "insider" information on hot careers to students.
"Our alumni guests don't come to the Legacies seminars with a formal PowerPoint presentation prepared. They just have an interest in meeting with students and casually talking about their careers," says Persephone Hall, associate director of employer relations for the Career Resource Center. "It's also a wonderful opportunity for students to hear from professionals working in fields they may choose to work in someday."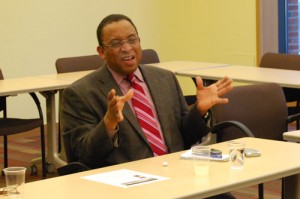 Pinkston, who later received degrees in history from Millsaps College and law from the University of Connecticut, took his first job as an anchor/reporter at WLBT TV in his hometown of Jackson, Miss. He then worked as the urban affairs director, general assignment reporter and producer of a daily public affairs program WJXT TV, the post-Newsweek owned CBS affiliate in Jacksonville, Fla.; reporter-anchor  for WFSB TV, the post-Newsweek-owned CBS affiliate in Hartford, Conn.; and finally as a general assignment reporter with WCBS in N.Y..
In 1990, Pinkston began his career with the CBS network. He was initially assigned to the Washington Bureau, where he worked as a White House correspondent during the last two years of President George H.W. Bush's administration.
Pinkston was later returned to general assignment reporting, covering a variety of stories in the U.S. and abroad. He shared a personal story about bringing a camera crew inside one of Osama bin Laden's training camps in Jalalabad, Afghanistan in 2001.
"We went right into the camp and filmed. I wasn't even thinking that it could have been booby-trapped, and as a journalist I really should be more careful," Pinkston said. "But I was curious. I was always curious, and that's what has kept me interested in the broadcasting field."
He answered several questions during his talk, and offered advice on how to get ahead in a communication-based career.
"If any of you have an interest in broadcast journalism or journalism, get an internship, meet people, and broaden your skill set," he advised the student audience. "You don't need to go to journalism school to learn Final Cut Pro, but you can pick it up somewhere else. Learn how to load up info on the web and make it interactive … expand your knowledge on new media."
Kaishi Lee '09, a mathematics-economics major from Singapore, attended the Legacies luncheon to gain an insider perspective in the communications world. She hopes to enter the field of consulting and public/social sector work after graduating.
"I attended a Legacies event last year related to law and public service, and attended this one because I'm interested in how media has been evolving rapidly, and also learning about Mr. Pinkston's successful career at CBS News," Lee says. " I enjoyed meeting Mr. Pinkston and his stories about his time at Wesleyan. He's an incredible person, very generous with his advice, and he shared his insights and life with us."
Pinkston's communication career-themed seminar was the second of three Legacies of Success meetings held during the 2008-09 academic year. In October, Dr. Joe Wright '79, head of pediatric emergency medicine at the Children's National Medical Center in Washington, D.C., and Dr. Kathy Cumberbatch Montague '95, a dentist at a Connecticut health clinic, met with students to discuss their career paths into pediatric and dental medicine.
In April, the CRC will bring in alumni to speak on their careers in law.
"Unconventional Wisdom: Legacies of Success" was created and sponsored by Kurt Lyn '87 and Michelle Anderson-Lyn '84 P'12 to facilitate meaningful interactions between successful alumni and students. The event was co-sponsored by the CRC and Alumni of Color Network.