Grabel Defends Embryonic Stem Cell Research to The Senate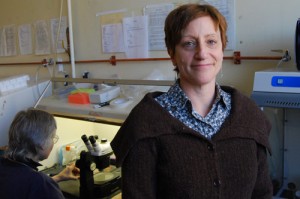 Sitting in front of the Senate panel, Laura Grabel was ready for the "when" and "why" questions. But she knew one of these questions held a lot more potential danger to her future than the other.
Grabel, the Lauren B. Dachs Professor of Science and Society, professor of biology, is a renowned stem cell researcher. She is also the co-director of the University of Connecticut Human Embryonic Stem Cell Core Facility, part of a $100 million human stem cell research initiative created by the State of Connecticut in 2006.
The stem cell initiative was the state's response to a veto issued by then-President George W. Bush that restricted federally-funded research on human embryonic stem cell lines to cell lines derived before August 2001. The initiative included a collaboration of three state academic institutions with outstanding stem cell researchers: Yale University, The University of Connecticut and Wesleyan University. During the start-up round, Grabel was not only named co-director of the facility, she received an $878,348 grant for her research.
All of this led up to her sitting in front of the panel at the State Senate in Hartford in the last week of February.
When Barack Obama was elected President many of his supporters hoped that there would be a rapid elimination of a number of policies enacted or continued by the previous administration, including the restrictions on human embryonic stem cell research. Though the policy has yet to change, the anticipation of its revocation, combined with a projected Connecticut state budget shortfall over the next two fiscal years of $6-8 billion, raises the possibility of the state reducing funding for the program or eliminating it completely.
"The 'why' question," Grabel says. "As in, 'Why should we even keep this once the federal government approves the practice?'"
Grabel has an extensive list of answers, including the fact that the state has already invested tens of millions of dollars in the stem cell initiative and that The University of Connecticut Human Embryonic Stem Cell Core Facility in Farmington will be completed early next year.
"And even if the ban were lifted tomorrow there has been no specific directives for the funding of stem cell research for NIH (National Institutes of Health) or any other federal funding agency," she says. "It would take until the following fiscal year at the very earliest to start grant funding. And even then, no one knows where that would go. We have this here now, and it's already making tremendous strides. Reducing the investment or cutting it off would set everything we've done back years."
Grabel points to her own lab. Her research focuses on using embryonic stem cells to create inhibitory neurons that can replace those that die during epileptic seizures and prevent future seizures.
"The idea is to use the stem cells to create inhibitory cells that can replace those that die when a seizure occurs and then suppress future seizures from occurring," she says.
Grabel's stem cell work on campus is complemented by additional research conducted by Janice Naegele, chair and professor of biology, professor of neuroscience and behavior, and Gloster Aaron, assistant professor of biology, assistant professor of neuroscience and behavior. Together with Grabel, they and their labs gave Wesleyan the intellectual and scientific heft to be included in the state initiative and its benefits.
Before the Connecticut stem cell initiative, Grabel and Naegele had one grad student working on the project. Now there are five people, including a post doc. She and her students now have access to advanced equipment that can only be dreamed about at liberal arts institutions and even many Research I universities. This includes a Deep Sequencing Facility capable of high throughput analysis, already in place at the University of Connecticut Health Center (home to UConn's Medical and dental schools).
"These are amazing facilities and access to them has really elevated the research opportunities we have," she says.
These were just some of the answers Grabel had ready if anyone asked why the State of Connecticut should continue to fund human stem cell research.
But as she and other scientists from Yale and UConn sat before Senator Donald E. Williams, Jr., (D-29th District), Senate President Pro Tempore and his panel in an informational session created in part for the media, the question never came.
"It was interesting in a way that no one really brought the 'why' question up," she says. "I got a call in late December that there was a rumor circulating around the capitol that we may be cut or eliminated, but then I got a call a week later saying that there was no substance to it. We're lucky to live in a state where people understand the value of this work and are willing to support it."
They did get a "when" question from the panel, however. As in: "When will we see treatments come out of this research?"
"There is already a phase one test being conducted in California, approved by the FDA" she says. "That's the first in-human step toward embryonic stem cell-based therapy. It was nice to have that to point to."
As for treatments coming from the Connecticut-funded research, exact estimates are difficult, but "within 10 years" is often given as a reasonable time-frame.
Grabel says the presentation in front of Senator Williams' panel went well and by the end she felt like she and the others had solid support. Grabel will make a similar presentation at the international StemConn 09 conference that will be held in New Haven from March 23-24. Lori Gruen, associate professor of philosophy, associate professor of feminist, gender and sexuality studies, will also be chairing a session titled "Emerging Ethical Issues in Stem Cell Research."
They join an impressive list of presenters from top universities and international corporations that have been at the forefront of human stem cell research.
"Along with the research opportunities, what's been amazing about this initiative is when people talk about stem cell research Wesleyan is mentioned in the same breath with Yale and The University of Connecticut," she says. "That's great company to be in, especially for a small liberal arts institution. It really says a lot about Wesleyan and our capabilities in this area."