Hoffman's '89 Biography Illuminates the Life of Palestinian Poet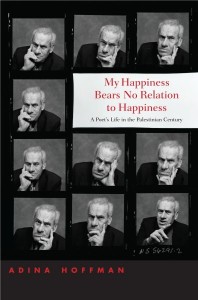 In her new biography, My Happiness Bears No Relation to Happiness: A Poet's Life in the Palestinian Century (Yale University Press, 2009) Adina Hoffman '89 tells the story of an exceptional man, Palestinian poet Taha Muhammad Ali, and the culture from which he emerged. Born in 1931 in the Galilee village of Saffuriyya, he had to flee his homeland during the war in 1948. He traveled on foot to Lebanon and returned a year later to find his village destroyed. An autodidact, he has since run a souvenir shop in Nazareth, but his written work is highly respected by many of the world's best writers.
Hoffman situates Muhammad Ali's life in the context of the lives of his predecessors and peers, and provides an expansive perspective on an era full of dramatic events. As she reconstructs carefully the world of the poet's lost childhood village, she provides a rich, empathetic view of the people and culture of the Middle East.
Hoffman had to piece together different pieces of the story she was telling from various accounts in Arabic, Hebrew, and English. She connected what she found in archives with the memories of people she interviewed, including peasants, poets, and military commanders. She offers fascinating portraits of a whole range of poets and novelists, many of whom who are unknown to much of the world.
Adina Hoffman also is the author of House of Windows: Portraits from a Jerusalem Neighborhood. Her essays and criticism have appeared in The Nation, The Washington Post, and the Times Literary Supplement and on the BBC. One of the founders and editors of Ibis Editions, she lives in Jerusalem.