Filmmaker, Eco-Activist Shalini Kantayya Addresses World Water Crisis at Earth Day Celebration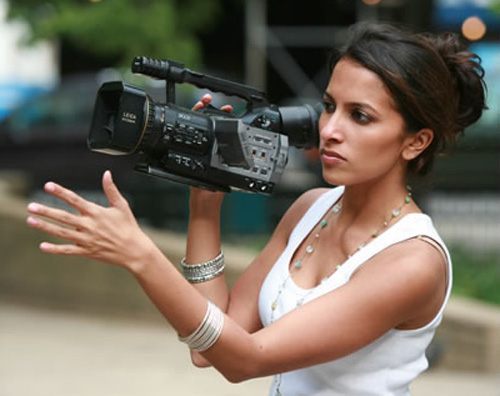 Through film, eco-activist, and reality television star Shalini Kantayya will speak about the global water crisis during Wesleyan's Earth Day Celebration April 15.
"Water is life," says Kantayya, the event's keynote speaker. "We are facing a world water crisis. A world in which nations are at war for water and every drop is for sale."
The event begins at 7:30 p.m. in the Center for the Arts Cinema. Kantayya will discuss her film, "a DROP of LIFE", which will be viewed following her presentation. "a DROP of LIFE," is a futuristic sci-fi flick about the mounting global water crisis. It has been used by The African Water Network as an organizing tool in over 40 villages across Africa, and has been screened at festivals worldwide, winning the Best Short Film at Palm Beach International and Audience Choice Award at the IUOW Film competition.
Kantayya captured the attention of the nation during the television series "On the Lot," a reality show created by Steven Spielberg for the purpose of finding Hollywood's next great director. Out of over 12,000 filmmakers, Kantayya was the only woman to finish in the top 10.
"I am absolutely delighted to speak at Wesleyan's Earth Day Celebration," Kantayya says. "I cheer on Wesleyan for its commitment to the planet and for its progressive liberal arts education. I am as excited to learn from Wesleyan's students as I am to share my passion for water as a universal human right."
Kantayya combines social commentary and commercial appeal in her films to make social change irresistible. Her production company, 7th Empire Media, is committed to using media to give a powerful voice to the unheard.
In addition to filmmaking, Kantayya finds it crucial to engage youth culture through activism. A William D. Fulbright Scholar, she has given more than 15 keynote speeches in the last year to colleges, universities, and conferences nationwide, addressing a variety of subjects related to media, ecology and activism.
"I choose to focus my efforts on young adults because it will take civic engagement and massive action to create life-saving solutions," she says. "I believe in the kinetic energy of youth to inspire major shifts in culture."
More information on Kantayya, her company and films is available at:
http://www.7thempiremedia.com
http://www.adropoflife.tv
http://shalinikantayya.net