Energy Association Honors Wesleyan for Conservation Efforts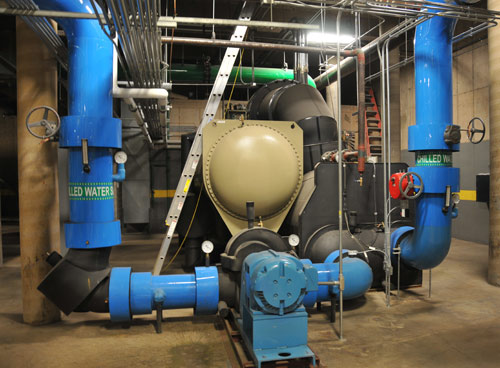 Peter Staye, associate director of utilities, points to the ceiling of the Bacon Field House. About 140 high-tech light fixtures span the width of the dome-roofed gymnasium.
"These are special lights for high ceilings," he says. "There's 24 fewer fixtures here than there used to be, and it's just as bright. If we used florescent fixtures, we'd need 240 of them."
The new, 350-watt, high-intensity discharge bulbs have replaced the older, 400-watt bulbs, and use 373,000 fewer kilowatt hours per year. They're also programmed to turn on in zones, and change luminosity throughout the day based on a newly-installed ambient light sensor.
The field house lighting project is one reason Wesleyan was awarded the Association of Energy Engineers 2009 Region I Energy Project of the Year Award. The award will be presented Nov. 3 in Washington D.C.
Wesleyan's Energy Conservation Project Phase I plan also includes lighting fixture replacements and sensor additions in the Freeman Athletic Center's basketball court, the Central Power Plant, new pump motors and a 70-ton water chiller in the Butterfield residences and a 20-ton chiller in Olin Library.
Staye is most proud of the mammoth 1,500-ton centrifugal chiller in the Central Power Plant used primarily in the summer months for air conditioning. It replaced an outdated unit from 1984, which used 0.84 kilowatts per ton (kW/Ton). The new model uses 0.38 kW/Ton when operating at its performance peak.
"This unit uses half the electricity as the old one and produces more chilled water," Staye explains. "It gives us a lot of options for operating the chilled water system in ways that the older machine prevented us from doing."
The entire Energy Conservation Project Phase I plan cost about $2.1 million. The State of Connecticut Department of Public Utility Control provided Wesleyan with a $1.1 million grant towards the costs of the projects. Phase I saves 1,300,000 kilowatt hours annually.
The Association of Energy Engineers is a nonprofit professional society of 9,500 members in 73 countries. The mission of AEE is "to promote the scientific and educational interests of those engaged in the energy industry and to foster action for sustainable development."
Wesleyan's efforts topped other conservation projects in Connecticut, Delaware, Maine, Massachusetts, New Hampshire, New Jersey, New York, Pennsylvania, Rhode Island and Vermont.
"We are very proud of the high quality of nominees that the AEE Awards Program attracts, and we congratulate (Wesleyan) on being selected for this honor," says Ruth Whitlock, executive administrator of AEE.
Wesleyan will begin Phase II of the Energy Conservation Project in 2010.