Armstrong-Roche Author of Book on Cervantes
Michael Armstrong-Roche, associate professor of romance languages and literatures, associate professor of medieval studies, is the author of Cervantes' Epic Novel: Empire, Religion, and the Dream Life of Heroes in Persiles, published by the University of Toronto Press in May 2009.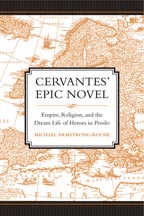 The 384-page study sets out to help restore Persiles to pride of place within Cervantes's corpus by reading it as the author's summa, as a boldly new kind of prose epic that casts an original light on the major political, religious, social, and literary debates of its era. At the same time it seeks to illuminate how such a lofty and solemn ambition could coexist with Cervantes' evident urge to delight.
Grounded in the novel's multiple contexts – literature, history and politics, philosophy and theology – and "in close reading of the text, Michael Armstrong-Roche aims to reshape our understanding of Persiles within the history of prose fiction and to take part in the ongoing conversation about the relationship between literary and non-literary cultural forms. Ultimately he reveals how Cervantes recast the prose epic, expanding it in new directions to accommodate the great epic themes – politics, love, and religion – to the most urgent concerns of his day."