Blue Sky Studios Donates Animation Computers to Wesleyan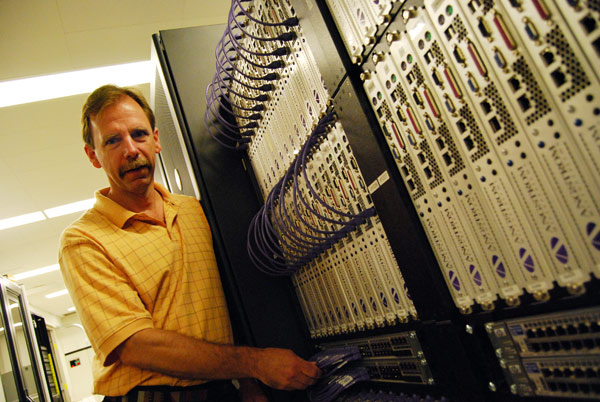 Next fall, Wesleyan students and faculty will perform research activities on the same state-of-the-art animation computers that produced Ice Age the Meltdown, a $652 million worldwide box office hit.
The computer hardware was donated July 2 by Greenwich, Conn.-based Blue Sky Studios, the creator of a number of award-winning digital animation features, including the Ice Age series and Dr. Seuss' Horton Hears a Who, which took in nearly $300 million worldwide.
In 2008, Blue Sky Studios refreshed their technology for their latest movie, Ice Age: Dawn of the Dinosaurs, and bought racks of new computers.
"The old computer racks still had a lot of life left in them, so we went looking for large colleges and universities in Connecticut that might be able to make use of this kind of computing infrastructure, and to which we might donate these computers," explains Andrew Siegel, head of systems at Blue Sky Studios. "Wesleyan seemed like a good candidate."
Blue Sky arranged for the racks to be delivered to the Exley Science Center loading dock. They are now housed on the fifth floor of Information Technology Services.
"We requested two, but they graciously gave us four," Ganesan "Ravi" Ravishanker, associate vice president for Information Technology Services.
Each rack holds 52 Angstrom Microsystem-brand "blades," with a memory footprint of 12 or 24 gigabytes each. Combined, Blue Sky donated about 3.7 terabytes of total memory.
"This is just phenomenal," says Henk Meij, senior consultant and manager of Unix Systems Group. "Once it's in full operation, it's going to be much appreciated by the researchers. They're definitely going to notice a difference in how fast research can be done."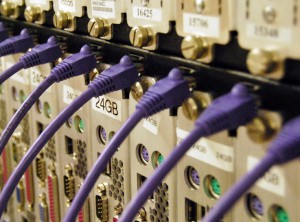 One rack will be devoted to supporting high performance computing at Wesleyan. The current system allows up to 300 "jobs" to run at once. An additional 100 jobs will be able to run with the new rack, and at higher processing speeds.
"If a graduate student in astronomy wants to calculate planet rotations in a section of the galaxy, he or she will be able to do this much faster," Meij says.
Another rack will be used primarily by ITS in a pilot project of building a virtualized data center using an entire rack. Services such as blogs, wikis, web servers and similar applications could be hosted in such an environment. When a hardware failure occurs, or one server experiences heavy loads, the virtualization layer would migrate the services to healthy servers automatically in the virtualized environment.
The additional two racks will be used to replace any hardware that fails in production system. Wesleyan would need additional cooling systems to run all four racks at once.
The high-speed animation computers feature 104 Centralized Processing Units (CPU) per rack. Each rack has a current market value of approximately $35,000. The University of Connecticut's drama and computer science engineering departments also are each receiving two racks.
Blue Sky, a wholly owned subsidiary of Fox Filmed Entertainment, relocated to Connecticut from New York in January, bringing with it more than 300 jobs. The company, which continues to expand, said it was attracted to Connecticut because of the state's efforts to promote the film industry.
"This is a tremendous gift for our students and for our state," Governor Jodi Rell said in a statement. "The film industry has clearly found a home in Connecticut and we are grateful for Blue Sky's commitment to Connecticut and partnership in helping us develop the next generation of skilled, educated industry professionals. This generous donation comes at a time when resources for so many worthwhile programs are stretched thin."