Marcotty Designs Campus Brochures, Calendars, Digital Magazine Archives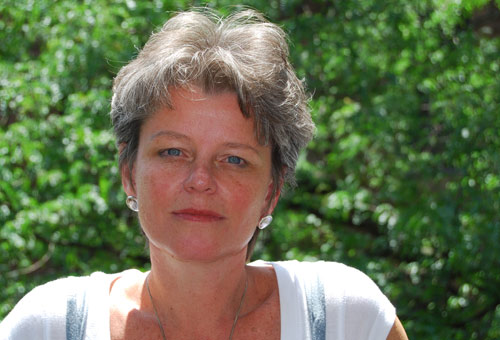 Q: Anne, you came to Wesleyan in 2001. What were you hired in as, and what is the objective/purpose of your position?
A: I was hired as senior designer in the Office of University Communications. I design and produce many of the print pieces and some of the web sites for various departments in the university.
Q: Who are your "clients" on campus? Does this repeat year to year?
A: I have worked with many of the academic departments and programs over the years, but much of my recurring work is with University Relations, particularly the events staff and the Wesleyan Fund.
Q: What are a few examples of recent projects you've been working on?
A: The Reunion & Commencement brochures and materials; the Shasha Seminar materials; the East Asian Studies calendar; the course catalog; the online version of Wesleyan Magazine … the list goes on. I am never without plenty of work.
Q: And what are a few projects that you're most proud of?
A: The online magazine is a favorite project of mine, mostly because of the functionality and behind-the-scenes mechanisms that make it work, but also because of the digital magazine archive, which was built with the help of my student interns. The other magnum opus that I have to mention is the university website redesign, on which I have been collaborating with colleagues from University Communications and the New Media Lab in a group called the Wesleyan Web Redesign Team. It is still very much in prototype form—we haven't even officially unveiled it yet—but the process has been a tribute to the dedication and talents of everyone on the team.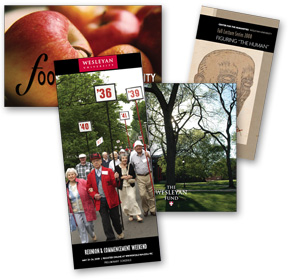 Q: What is the goal of the Web Redesign Team?
A: We are redesigning the university website, starting with the homepage, the major landing pages and the Admission site. The goal is to make it more functional, easier to navigate, with a brighter, cleaner and more modern design.
Q: Since you started at Wesleyan, has the demand for print-based publications lessened? Are more clients going towards web-based? How do you keep up with technology to support this? Also, how has design software changed over the years?
A: There are some publications that used to be printed and which are strictly web-based now, but it is not as simple as trading one medium for another. I think it is more accurate to say that the print/web balance is more efficient than it was a decade ago. We used to treat web content as more of an afterthought, or as an accompaniment to print publications. There is now more consideration being put into how the two media work together, and how the strengths of each medium can be used most effectively, both for impact and cost.
Design software has developed accordingly. I learned my craft before desktop publishing (before desktop computers, even). I would write specifications for the typesetter and printer, the language for which was arcane and specific, and needed to be exact, much in the way that code needs to be. The first desktop publishing program automated that process, but it was so rough (it could not handle fractions of points for type, for instance) that I only used it as a way to sketch out my ideas before specifying the text and pasting up the mechanicals. Even now, with the highly sophisticated program we use (Adobe InDesign), the principle is still the same: you use the software to specify the type and page layout—almost to the molecular level—and to produce a digital mechanical to those exact specifications. Keeping up with the technology has meant learning the capabilities for specification, but basically, if you can think it, then there is a way to do it.
Q: What are some of the major challenges of your position?
A: Time management is always a challenge, mostly because there are always variables that can't be predicted, and many opportunities for error. This is a complex community; everybody has their own schedule and concerns, and while our project manager, Dena Matthews, works tirelessly to adhere to a reasonable schedule, it is much more an art than a science. The key is to be flexible and to help our clients reach their goal.
Q: Generally, do you work on a project as the only designer, or is a project a group collaboration?
A: I most often work alone as the designer, but I feel that the whole project is a collaboration with the client, and that I am working with, rather than for someone.
Q: If a department needs, say, a brochure created to publicize an upcoming program, what is the process from the design end?
A: Dena and I will usually meet with the client to work out the specifics of the job: the size, the intended audience, the kinds of images, the mailing needs, and the schedule. I sometimes will try to sketch or describe my first impressions, to make sure we're all on the same page conceptually. It is easiest to work with the text already furnished, but there are some times when the design helps the client to shape the text. Either way, I will start by setting up an InDesign document and formatting text, either real text or dummy text, to fit the layout. I will select photos, or ask our digital assets manager, Jenny Fields, to help pull a selection, and position them in the layout. If I get stuck on a particular design decision, I might ask the art director, Steven Jacaruso, for his advice. When there is enough of a design to make a presentation, I will send it to the client for review. That part of the process is mostly handled digitally, with PDFs sent by email, which the client can then mark up with comments and changes, and send back for revision.
Q: Where did you attend college and what did you major in? What brought you to Wesleyan?
A: I got a BSc in education from Boston University. By the time I finished, I realized not only did I not want to teach, but I was very interested in nature and the environment. I did not have the aptitude to be an environmental scientist or lobbyist, but I was a fair artist, and thought I could make a contribution in that way. I went to Mass College of Art and got a graphic design certificate, with which I was able to join an environmental nonprofit as their designer. I stayed with them for 16 years, and when the company moved to a town that was virtually impossible for me to commute to (and where we couldn't possibly afford to buy a house), my husband and I felt it would be time to make a fresh start. I wanted to work in a similar situation, among interesting people, with opportunities to learn every day. My husband said, "You should try Wesleyan—that would be perfect for you. Wouldn't it be great if you could work for Wesleyan and we could live in Guilford?" So that's what we did.
Q: What is the busiest time of the year for you, any why?
A: The spring is busy because we're preparing for R&C; the summer is busy because we're working on preparing for the new academic year; the fall is slightly less busy, but then it picks up in November because we try to get everything finished before the holidays.
Q: Tell me about your family and some activities you enjoy doing together. Also, other than being the Office of University Communications in-house naturalist, what are your hobbies and interests?
A: My husband, Joe Morris, is a free jazz musician and teaches at New England Conservatory; my daughter, Alexa, will be a senior in high school, and works in our department during the summer (you can admire her excellent formatting in the forthcoming course catalog); my son Dylan is 12, and a tree-hugging vegetarian who likes airsoft guns (go figure!). We live in the woods near the beach, with two horses, a dog, and three snakes. I have to say, I am interested in just about everything, which means that I read a lot.