Patrick Tynan New Women's Crew Coach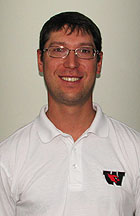 Patrick Tynan, who spent the 2008-09 season as assistant men's lightweight crew coach at Yale University, has been named faculty head coach of women's crew at Wesleyan on July 1.  Tynan steps into the position occupied by Beth Emery from 1988 through 2008 and covered on an interim basis by Brian Dawe in 2008-09.
"The opportunity to be a head coach in the NESCAC, which is probably the most competitive league for women's rowing in Division III, was a big attraction to me,"Tynan says. "When I met some of the athletes on the team through the interview process, I knew this would be a good fit because it was clear that they have a very strong drive to be excellent and they just seemed like great, down to earth, hard working kids. The facilities are top notch and the administration is supportive of the program."
A 1999 graduate of the University of Massachusetts at Amherst where he was an integral member of the varsity lightweight crew, Tynan began his coaching career as a men's assistant at his alma mater for two seasons before heading to Colby College from 2001-06. There he assisted with both the men's and women's programs, helping the women's novice crew win three New England championships. As interim head women's crew coach at Williams College in 2006-07, Tynan directed the Ephs to a New England and NCAA Division III title at the varsity eight level. Williams also captured a team title at the NCAAs in 2007.
Before joining the Yale staff in 2008, Tynan spent the 2007-08 season with a second stint at his alma mater, this time assisting with the women's squad.
A USRowing Level III certified coach, Tynan also has a wealth of experience at summer rowing camps in Connecticut, Maine and Maryland over the last decade.
"Patrick's successful coaching experience at two NESCAC colleges, his outstanding reputation in the New England crew coaching fraternity and his keen desire to work with the Wesleyan oarswomen made him an outstanding candidate for our position," says Jhn Biddiscombe, director of athletics. "I know the future of Wesleyan women's crew is in good hands with Patrick as head coach."
Tynan says his goals for the upcoming season will evolve as the team moves through the year. But an initial goal is to continue to grow the team by attracting more kids with high school rowing experience and by developing novice rowers into athletes who can eventually contribute to a varsity boat.
"We want to reconnect with the alumnae because there is a rich tradition of rowing here at Wesleyan and it's important for the future of the program that the alums stay connected after graduation," Tynan says. "From a results standpoint, we'd like to have as many of our crews race in the finals of the New England Rowing Championships as we can and be in the mix for a medal."
(Co-authored by Brian Katten, sports information director)