Lang Authors New Book on Holocaust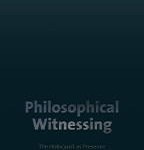 Berel Lang, visiting professor of letters, visiting professor of philosophy, is the author of the book Philosophical Witnessing: The Holocaust as Presence published by the University Press of New England, the fifth in a series of books by him on the Holocaust.
The 260-paged book brings the perspective of philosophical analysis to bear on issues related to the Holocaust. Setting out from a conception of philosophical "witnessing" that expands and illuminates the standard view of the witness, he confronts the question of what philosophy can add to the views of the Holocaust provided in other disciplines. Drawing on the philosophical areas of political theory, ethics, aesthetics, and the philosophy of history, he draws attention especially to the post-Holocaust emphasis on the concepts of genocide and "group rights."
Lang's study, which emphasizes the moral choices that now face post-Holocaust thought, inspires the reader to think of the Holocaust in new ways, showing how its continued presence in contemporary consciousness affects areas of thought and practice not directly associated with that event.