Labyrinth Built in Honor of Joe and Kit Reed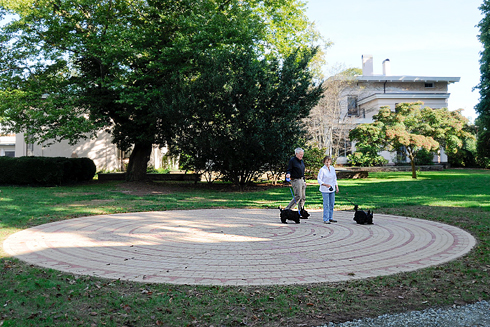 "Every university should have a labyrinth, for it represents our desire to unravel the essential mysteries of human existence. It is a problem to be solved, a question to be answered, a paradox to be considered.  Each labyrinth has a center and, as a diagram of learning, its tangled patterns lead us to that hidden core.  Even as the pursuit of knowledge follows many diverging paths there is also a basic symmetry to these designs, a unified whole that pleases the eye and piques the mind." – Stephen Alter '77
This month, the Wesleyan community can leave the stress behind while taking a meditative walk around a newly constructed labyrinth.
Located between the Skull and Serpent building and the Davison Art Center Courtyard, the 30-foot-wide circular maze simply titled "Labyrinth", is a result of six years of planning and alumni fundraising. Labyrinth was presented to Wesleyan to honor Kit and Joe Reed. Kit is an author and resident writer at Wesleyan and Joe is professor of English and American studies, emeritus, who taught film courses at Wesleyan from the mid 1960s until his retirement in 2004.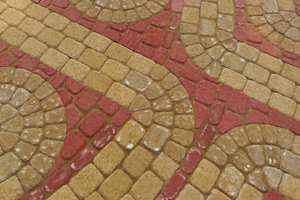 "Kit and Joe Reed represent the very best of Wesleyan's labyrinthine traditions," explains Stephen Alter '77, who spearheaded the Reed project. "They have led us along paths that do not follow a straight or predictable route. They have challenged and provoked us with questions that digress from ordinary disciplines and discourse. They have surprised and inspired us with their humor, their eccentricities, and their love of literature, film and art. For all these reasons, we dedicate this labyrinth in their honor, so that future generations of Wesleyan students will trace these paths and discover the secrets that lie therein."
Alter and Cheryl Sucher '78, with help from University Relations, started raising funds from Wesleyan alumni who were taught by Kit or Joe Reed. They hoped to create a structure that would reflect the Reeds' love of literature, film, "irrepressible imaginations, and above all, their subversive integrity." With the Reeds' input, the group decided to move forward with a labyrinth. The Reeds chose a maze mimicking the 808-year-old Chartres Cathedral labyrinth in France.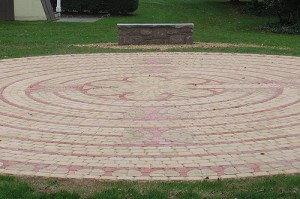 "We thought the labyrinth was a wonderful idea," Kit Reed says. "It's something that students can enjoy and it adds to the Wesleyan landscape I've heard that the Vespers Society will be meeting there, and I've seen people walking around it and having lunch on it," Reed says. "People are using it."
Labyrinth itself is only a part of the gift to the university. Kit and Joe Reed have asked that gifts remaining beyond the cost of the labyrinth be used to form the Horgan Fund for Wesleyan University Press. The Horgan Fund, honoring twice Pulitzer Prize-winning novelist and historian Paul Horgan (1903-1995), who directed the Center for Advanced Studies (later the Center for the Humanities),  will support the continued excellence of the Press and is a fitting way to honor the Reeds' commitment to writers and writing.
"Wesleyan University Press published seven books written by Paul Horgan, three of Joe's books and two of mine. Since the Press, like everyone, is facing a financial crunch, it's important to keep them operating at their usual standards," Kit Reed says.
Alter says Labyrinth recognizes the Reeds' contributions in an appropriate manner, adding an exciting new landmark on campus, without being extravagant or wasteful.
"For many of us, the labyrinth represents the best part of the Wesleyan experience — a university that is receptive to unconventional and innovative ideas," Alter says. "[The Reeds] are enormously caring human beings who gave us emotional support, advice and countless cups of tea when we were undergraduates."
An opening for "Labyrinth" will be held at 4:30 p.m. Nov. 7. The Wesleyan community is invited.