Wesleyan Offers New Environmental Studies Linked Major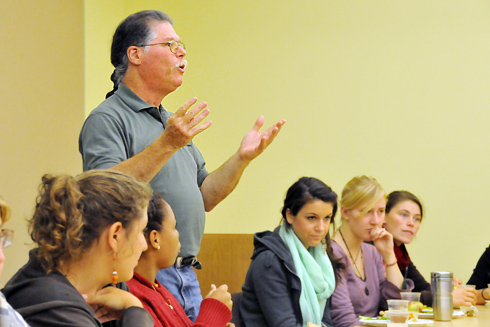 From his home in Hawaii, Evan Weber '13 can walk a couple hundred yards and be standing in the Pacific Ocean. Or, he can walk a couple hundred yards and be on the Ka'iwa Ridge, climbing through forests.
As a result of his fortunate placement, Weber grew up with a deep connection to the natural world and developed a sense of personal duty to preserve and uphold the "multifaceted wonder that is our home, Earth," he says.
At Wesleyan, Weber plans to expand his appreciation and knowledge for the planet by double majoring in the new Environmental Studies (ENVS) Linked Major. The new area of study is more than an expansion of the Environmental Studies Certificate Program.
"My interest in environmental studies has to do with taking my spiritual, ethical and conservational ideas about nature and helping to disperse these ideas into the semi-functional globalized, industrialized, materialistic and political society that we are all members of," Weber explains. "When one has the opportunity to know nature as place of solitude, a place for reflection, a thing of beauty, and as a friend, it is hard to imagine a world without nature. By protecting the environment we not only uphold its aesthetic offerings, but also protect ourselves and our progeny."
On Sept, 11, Barry Chernoff, the Robert Schumann Professor of Environmental Studies, Professor of Earth & Environmental Sciences, professor of biology and director of the Environmental Studies Certificate Program, explained the new major to more than 35 interested students.
The linked major program is the second major to a primary major. Students must complete all the requirements for graduation from their primary major in addition to those of ENVS as their second major.
"In theory, you'll have strength from your primary major with a real scholarly depth, and you'll be able to link this with practiced environmental issues," Chernoff explains.
The program requires one introductory course, seven electives, two semesters of a senior colloquium, a senior capstone project on an environmental topic and one course in any subject that fulfills a writing capability. The electives must include three core courses and a four-course "concentration" on an environmental theme. Wesleyan offers more than 80 courses that could count as electives.
"This is your oyster. You have four courses to delve into on any theme you're interested in," Chernoff says. "And if no course is taught on your theme, you can make a student forum. You can have any primary major and be an ENVS major too."
Attesting to the major's adaptability and wide purview, no two students attending the Sept. 11 information session had identical interests in environmental studies. Matt Auster '12 is concerned with carbon dioxide emissions. Aja Mathews '13 would like to study conservation and environmentalism. Andrew Essington '12 is intrigued by in sustainable agriculture. Other students cited food policy, natural resources, impact of the human diet, sustainable development and environmental justice as their reasons for wanting to major in Environmental Studies.
Like Weber, Taran Catania says her upbringing sparked an interest in the ENVS linked major. She was raised on a walnut and maple syrup farm in northern New Jersey in a home run entirely on solar energy.
"The environment has always been an important part of my life, and I've watched my parents make a career out of it; my dad used to be heavily involved in environmental legislation and currently my parents are running a non-profit together that focuses on the preservation of open space," she explains. "At Wesleyan I really want to study all aspects of environmental studies, and I plan to look into environmental policy as a possible career path."
For additional information on the program contact Valerie Marinelli, administrative assistant, at vmarinelli@wesleyan.edu, or visit http://www.wesleyan.edu/registrar/catalog/envst.htm