Duruöz Releases New CD on Guitar Music from Turkey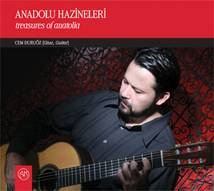 Cem Duruöz, guitar private lessons teacher, will present the music of his native country, Turkey, in a CD release event at 5 p.m. Nov. 15. at the Milford Center for the Arts, 40 Railroad Avenue South in Milford, Conn. The CD is titled "Treasures of Anatolia: Guitar Music from Turkey" and is released from Tutti Music.
The program includes a guitar recital with Turkish Music, discussion of the origins and styles of Turkish Music, selections from the CD with historical and stylistic information about the pieces, a short Turkish Folk Dance class and a reception and refreshments. Tickets are $20 by calling 203-809-8445.