Wesleyan University Press Releases Book on the Connecticut River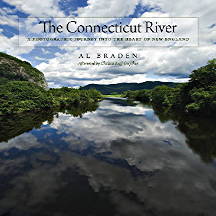 Wesleyan University Press published a photographic book about the Connecticut River Oct. 23. The photographs in The Connecticut River: A Photographic Journey Through the Heart of New England follow this major waterway for 410 miles, from its origin near the Canadian border to its wide mouth on Long Island Sound, giving readers a vivid portrait of a living artery of the New England landscape. Middletown is featured in the book.
Author and photographer Al Braden opens the book with an essay introducing important aspects of the river, and Chelsea Reiff Gwyther, executive director of the Connecticut River Watershed Council, closes with an essay that succinctly highlights the environmental pressures that the river faces.
The book has 136 full-page color photos, ranging from close-ups to dramatic aerials, to reveal the river as few people are privileged to experience it. Readers will see and learn about many facets of the river, including its landscape, history, development, conservation, geologic formations, flora and fauna, and, of course, the moods of the water, sky, and riverbank. Informative captions provide a wealth of information about the images, which depict every¬thing from pristine misted mornings to rich valley farmlands and modern hydroelectric turbines. The Wesleyan University Press book is $35 and available online.