Perkins '09 Awarded 2010 Rhodes Scholarship
Russell Perkins '09, COL, has been awarded a 2010 Rhodes Scholarship.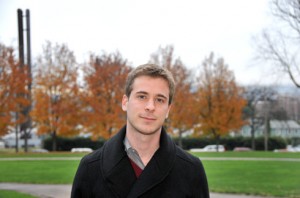 Russell Perkins '09 was awarded a 2010 Rhodes Scholarship. Perkins, from Evanston, Ill., graduated with high honors from Wesleyan University in May. He majored in the College of Letters (COL) with a senior thesis titled "Violence in Adornian Aesthetics and the Art of Anselm Kiefer;" his advisor was Khachig Tololyan, professor of English, professor of letters. Perkins co-founded Wesleyan's Center for Prison Education which offers Wesleyan courses at Connecticut's Cheshire Correctional Institution. In addition to offering education for selected inmates, the program provides research and volunteer opportunities for Wesleyan students and faculty. A classical pianist and avid cyclist, he taught a small discussion workshop in philosophy at the Cheshire prison as an undergraduate. Russell plans to do the B.Phil. in philosophy at Oxford University.