Dena Matthews Oversees Hundreds of Campus Print Projects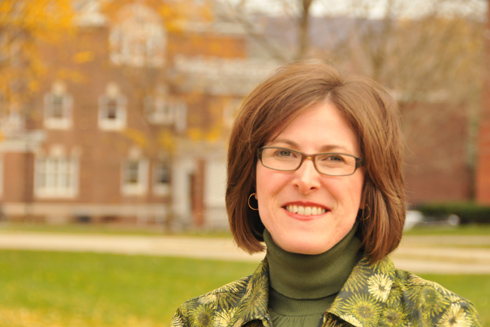 Q: Dena, you recently celebrated your first-year anniversary working as a publication production manager in the Office of University Communications. Do you oversee all publications produced for campus-use?
A: Not all, but I manage hundreds of projects- booklets, posters, direct mail pieces, banners, postcards and more- that are intended for Wesleyan communities on-campus and off.
Q: Please cite a few examples of publications that you have helped manage recently.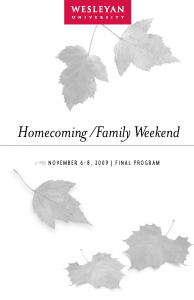 A: The Wesleyan Annual Fund's compelling direct mailer, the freshly redesigned packet mailed to newly admitted students, and the simply elegant Homecoming and Family Weekend booklet are terrific examples. Each uniquely exhibits beautiful and cost-effective solutions the Office of Communications staff can accomplish on schedule when collaborating with our campus constituents.
Q: Are most publications printed at Wesleyan's print shop, Cardinal Print and Copy, or by outside businesses?
A: Cardinal Print and Copy handles our routine digital printing, like posters you see on-campus. I call on outside vendors operating offset printing presses, bindery and mailing services for complicated projects and/or those with quantities over one thousand.
Q: What is your role working with vendors?
A: I look for the best fit for each project matching it to a vendor by evaluating their location, environmental initiatives, services, capabilities and price. I work closely with the selected vendor and with Steven Jacaruso, art director, or Anne Marcotty, senior designer, to ensure the project specifications- like paper stock, dimensions, quantities or special instructions like folding, inserting and binding- are clear. Generally, I obtain three competitive bids.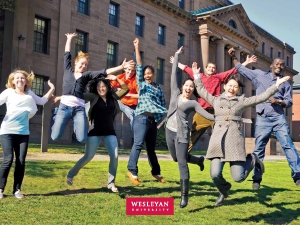 Q: How would you help, say, the Office of Admission create the Admissions Packet? What are the steps from start to finish, and what is an average turn-around time?
A: Since the project was a redesign initiated by Jillian Baird-Burnett, associate dean of admission, I arranged a meeting with our staff, her and others from the offices of Admission and Financial Aid to discuss their goals. It was a complex project, so I'll outline our process.
We start by developing concepts. After a one is selected, I request a vendor deliver paper dummies using the proposed paper stock. This is evaluated for compliance with Wesleyan Station's metering equipment, U.S. postal regulations, and postage cost. Once I have a consensus on the physical construction of the piece, I focus on facilitating the content development.
The designers search our archives of images to suggest in the layout. Bill Burkhart, university photographer, is called upon if a project requires updated campus images. This particular photo was taken by Olivia Bartlett Drake in our office.
The packet contains literature on Residential Life, WesFest, Financial Aid, First Year Learning and WesAdmits on Facebook. People from each respective department provide written content. Then I ask David Low, associate editor of publications, to  review and edit it to conform to Wesleyan's style guide.
Once the photos are selected and text is edited, the designer creates mock-ups of the print pieces for review and approval. Upon approval, our staff work on the finishing touches, including color correcting photos and refining the layout.
The final files are sent to the print vendor who returns a few days later with professional proofs. Once those are approved by staff in Communications and our colleagues, in this case Jillian, the vendor will deliver the printed project to Wesleyan or mail to the intended recipients, depending on the project.
For detailed information on scheduling, readers may visit the tips and procedures page.
Q: Prior to Wesleyan, where were you working? What attracted you to the publications management position?
A: I always admired Wesleyan University. When I saw the position, I knew my experience and knowledge closely matched its many and varied needs. For over a decade I've co-owned and managed LifeHouse Productions, LLC, providing high-end, biomedical animation. It is fun running a small business, yet I am energized working with larger teams. I am grateful to work alongside such talented, bright, and inspiring people.
Q: You're a member of a medical illustrator organization. Please elaborate.
A: There's a saying among the Association of Medical Illustrators (AMI), that medical illustrators draw what cannot be seen, watch what has never been done and tell thousands about it without saying a word.
Q: Where did you go to college and what did you major in?
A:  I hold a master's degree in biomedical visualization from the University of Illinois at Chicago and a bachelor's of science in biological sciences from the University of Connecticut. My background has afforded me many interesting opportunities. For example, I co-authored a chapter on computer animation in The Guild Handbook of Natural Science Illustrators, 2nd ed. and went on to teach at New York University's graduate program in their Center for Advanced Digital Applications. My then-students are now lead animators on films like "Cloudy with a Chance of Meatballs," which is very rewarding! I continue to speak to students about the field and would certainly welcome any questions from the Wes community. More recently, I became vice chair of the AMI's Artists' Rights Committee and represented the membership on Capitol Hill.
My love for the arts, science and technology, along with my entrepreneurial spirit makes me uniquely well-suited to the Wesleyan culture. From my participation in numerous professional organizations, I am constantly learning new things to contribute here at Wesleyan.
Q: What are your hobbies/interests away from the office?
A: I enjoy nature and the outdoors. I capture its beauty through photography and plein air painting. I dig planting perennials, heirloom vegetables and starting plants from seed. On rainy days, I train my movie-star dog Gypsy new tricks.