Perkins '09 Awarded 2010 Rhodes Scholarship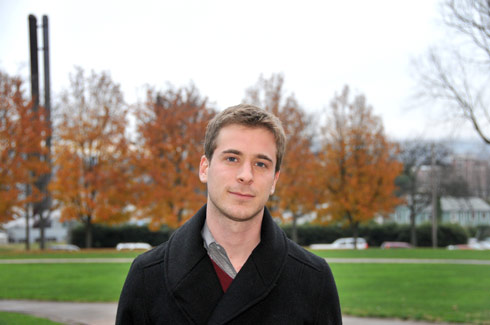 Russell Perkins '09 was awarded a 2010 Rhodes Scholarship.
Perkins, from Evanston, Ill., graduated with high honors from Wesleyan University in May. He majored in the College of Letters (COL) with a senior thesis titled "Violence in Adornian Aesthetics and the Art of Anselm Kiefer;" his advisor was Khachig Tölölyan, professor of English, professor of letters.
Perkins co-founded Wesleyan's Center for Prison Education which offers Wesleyan courses at Connecticut's Cheshire Correctional Institution. In addition to offering education for selected inmates, the program provides research and volunteer opportunities for Wesleyan students and faculty.
Perkins entered his name into the Rhodes competition, in part because he wanted to study at Oxford University in England.
"Oxford has one of the most exciting philosophy departments in the
world and I was eager for the potential opportunity to take part in
that," he says.
The process moved forward and during the fall he received notification that he was a finalist. Up to that point cautious optimism had ruled his thinking, but as he drew closer the reality and gravity of his position began to sink in.
"The whole interview process was pretty surreal," he said. "There was a dinner
party with the finalists and judges the night before and I felt like I couldn't get a coherent sentence out. That was tough."
However, he found the final interview less pressure-packed, and "surprisingly fun." But after he was done, he found himself in a room with all the other finalists. They waited together for several hours until all the interviews were completed.
"And then they came out when it was all finished and informed the individuals who had won right there," Perkins said. "It was almost like some reality show. I was extremely surprised when I was told I was a winner. The finalists were such an impressive group—anyone could have been chosen and it would've made sense. So when they named me, I felt truly fortunate."
A classical pianist and avid cyclist, he taught a small discussion workshop in philosophy at the Cheshire prison as an undergraduate. Russell plans to do the B.Phil. at Oxford University. And then…?
"I'm taking this one step at a time. I've been so fortunate at Wesleyan to have opportunities to learn from such inspiring professors and pursue initiatives like the Prison Program. I can only hope my experience at Oxford will continue in that vein. I intend to continue to work towards democratizing access to educational opportunity—but what form that will take, I don't know yet."