Alec McLane: Music Librarian Oversees 3,000 Entries in Olin's Music Catalog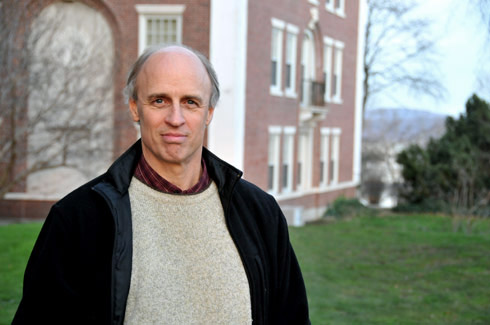 Q: Alec, when were you hired as Wesleyan's music librarian?
A: I came in the summer of 1998 to interview for the position, and started work that Fall semester.
Q: Do most universities have a music librarian? Like other librarians, are you involved in cataloging, organizing, acquisitions and assisting patrons?
A: Large universities with separate schools of music often have a branch music library with one or more librarians staffing it. Institutions of Wesleyan's size vary somewhat, usually according to the relative importance of the music department within the school. In our case, with graduate programs in composition and ethnomusicology, the music collection is quite important and gets its own librarian. Reference, preservation, and cataloging are all part of what I do, but with specific attention to the music collection.
Q: You're also the director of the World Music Archives, which was first used in teaching in 1953. What would one use the music archives for?
A: The World Music Archives is a collection of field recordings from around the world and also of Wesleyan concert recordings. It began as the personal collection of the late Professor David McAllester, consisting mostly of Native American music, and then grew geographically as did the program in world music and eventually came into the library's possession in the 1980's. It has unique collections music from many parts of the world, and as the archive of Wesleyan concerts we keep all student recitals, student ensemble concerts, Crowell Series concerts, etc.
Q: How many music samples are included in the archives? Can material be checked out?
A: We have around 3,000 entries in the library catalog, many of which are collections of multiple items, sometimes as many as 30 separate tapes or CDs. Nearly all of this is available to any Wesleyan or non-Wesleyan library user for in-house listening. Since both field recordings and concert recordings come to us with a wide range of permissions or restrictions on copying we generally don't circulate any material, but depending on the availability of permission we can make copies of some of these recordings for users.
Q: What are some of the music collections that Wesleyan is most proud to own?
A: In the World Music Archives our strongest areas of field recordings are Native American (particularly Navajo), South Indian, Indonesian, African, and East Asian. We have two recordings of a Navajo ceremony made by David McAllester that are listed on the registry of the National Recordings Preservation Board at http://www.loc.gov/rr/record/nrpb/nrpb-masterlist.html; we have all the South Indian field recordings made by Jon Higgins, who taught at Wesleyan for many years and became nationally known in India as a singer of Carnatic classical music, the only non-Indian to ever achieve that status; and we have a recording of the Grateful Dead concert on Foss Hill in 1970, the day before the Kent State shootings.  In our regular circulating collection, our world music holdings in general are very special and we have many CDs that are not held in any other U.S. libraries.
Q: What is an "average" day like for you?
A: That's a tough one. I usually have a lot of email to go through, some just reference questions, from both on and off campus, some just monitoring professional mailing lists, some related to maintaining the library's collections. I usually spend a certain amount of time selecting material for the collection, not just music, but I'm also responsible for the dance collection and most recently that for English literature as well.  I supervise, along with my staff, a number of grad student workers in the World Music Archives, and spend a certain amount of time training them and dealing with questions that come up in the areas of preservation and cataloging. Meetings, with both internal library committees and campus-wide committees, are scattered throughout the week. And I spend several hours a week at the main reference desk, as do most librarians.
Q: Where did you attend college and what are your degrees in? What led you to Wesleyan?
A: All of my degrees except the MLS are in music – a B.A. from the Berklee College of Music, and the M.M. and D.MA from the University of Illinois, all in music theory and composition, minoring in ethnomusicology. The MLS was also from Illinois and I spent three years afterward as a librarian in Ohio before finally getting the chance to return to New England, where I grew up. Wesleyan was an ideal fit for me because of my experience at Illinois with both experimental music composition and ethnomusicology. I feel particularly close to the music department here – it's unlike any other I've ever experienced.
Q: Where are you from, and what are your outside interests?
A: I grew up mostly in northern New England and seem to gravitate in that general direction for most vacations. I climb mountains and ski whenever I can. Aside from dealing with music every day at work I love playing as an amateur musician in several different traditions: Appalachian Old-time music, Indonesian gamelan music and Chinese music. My interest in the latter has taken me twice to China in recent summers.