Students Enrich Lives, College Experience by Studying Abroad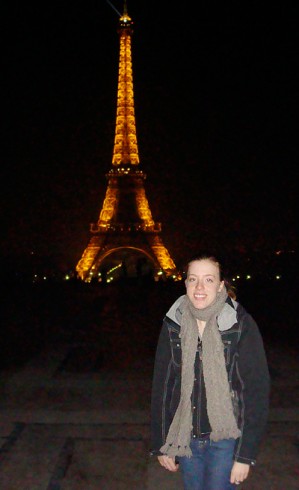 Lydia Tomkiw '11 began studying la langue française in kindergarten, and as a College of Letters major, she was required to study abroad for one semester. Little did she know that that her first week in Paris would result in a discussion on the American political landscape in French.
"During my first week, when I was still adjusting to everything, my camera battery broke. I had never been taught the vocabulary for battery and charger. I looked those words up and found a store. I walked in and felt a little nervous. But I was able to tell the shop keeper my problem and, as he was fixing my camera, he asked me where I was from," Tomkiw recalls. "When I said I was American, he started asking me about President Obama.
"We spoke for 10 minutes in French and it ended up being one of the most interesting interactions I had in Paris, and when I left the store I realized that not only had I successfully gotten my camera fixed, I had discussed the American political landscape in French with a complete stranger who understood everything I said – and all because of a camera battery. After that, I stopped being nervous. Of course I did make mistakes in French but I kept speaking to improve my language skills."
Tomkiw, who went abroad in spring 2009, studied through the Vassar Wesleyan Program in Paris, one of several Study Abroad programs offered through the Office of International Studies. There, OIS Director Carolyn Sorkin and OIS Assistant Director Gail Winter advise about 50 percent of the student population on study abroad options.
Students earn credit towards their Wesleyan degrees through some 150 academic programs in nearly 50 countries. About 300 students go abroad every academic year.
"Study abroad increases knowledge of another society, which in turn enables the participant to see his/her own cultural values and biases," Sorkin explains.
Tomkiw says studying abroad in Paris was one of the best experiences of her life. She took four courses, worked as a teaching assistant, babysat, and enrolled in a dance class.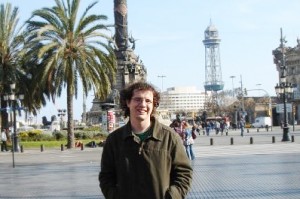 "I felt completely immersed in the French culture and language, and the experience tremendously improved my language skills," she says. "I think if you have the opportunity to go abroad you should do so without hesitation. The experience may not be easy but it's completely worth it in the end."
Neuroscience and behavior and Spanish double major Gregory Storch '10 studied abroad in Madrid, Spain at the Universidad Carlos III de Madrid in spring 2009. Three of Storch's courses were taught entirely in Spanish.
"To me, the greatest challenge of studying abroad really is integration," Storch says. "Living in the United States, you build up subconscious expectations for how things should be, how people react to situations, how to get something done. Our comfort level is based around our knowledge of all of these little expectations put together. Abroad, everyone has grown up with an entirely different set of beliefs and expectations, and as such there is a different 'sense' of normality."
Eliza Gordon, who is currently studying abroad in Bologna, Italy, started taking Italian classes during her first year at Wesleyan. This week, she's wrapping up three courses at the Università di Bologna — the Italian Political System, Archeology of Emilia-Romagna in the Middle Ages, and Art History of Eccentric Renaissance Artists.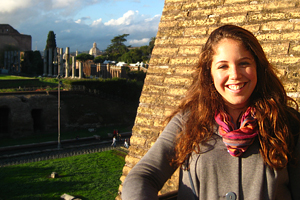 All of her classes are completely in Italian. This week, she's preparing for exams, which has been an entirely different experience all together. In Italy, exams are done orally.
Gordon, who is living with Italian roommates, says the best part of her experience abroad was taking cooking classes with a Bolognese chef. Gordon wrote about her cooking experiences in a recent Wesleyan Blargus.
"We get to her house around 5 or 6 p.m., cook for hours, eat a huge dinner, and then we sit and talk for hours. We never leave before midnight and it is always so much fun," Gordon says.
A recent study titled "Cultural Borders and Mental Barriers: The Relationship Between Living Abroad and Creativity", published in the Journal of Personality and Social Psychology, indicated that long-term study abroad increases creativity. Sorkin points out that it also raises self-confidence and maturity, has a lasting impact on world view, enhances interest in academic study (both country-specific and general), reinforces commitment to second-language fluency, develops skill sets important in the professional world (flexibility, communication, risk-taking, adaptability, concrete knowledge of a language/culture/ discipline, networking contacts, awareness of diverse business practices, exposure to global issues facing a given field, etc.), and encourages the seeking out of a greater diversity of friends.
"The longer the stay, the greater the benefits," Sorkin says.
Although Tomkiw, Gordon and Storch spent their semesters abroad in different countries, they all agree on one thing – the experience was definitely worthwhile.
"I think I learned a lot about what I'm capable of and who I am as a person," Storch says. "It's always a challenge to go abroad, but I think that the cliché of learning the most when you're challenged is absolutely true, and that it is worth the pain in the end. I'd highly recommend it."
For more information visit Wesleyan's Office of International Studies.