Pat Tully: New University Librarian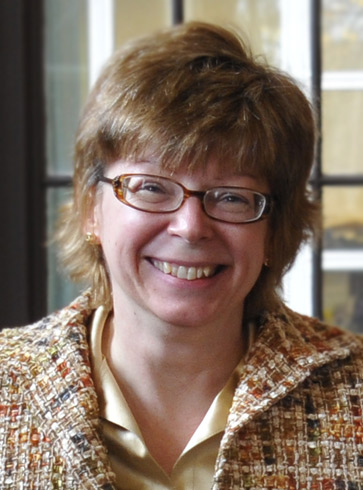 Patricia Tully, who has been the interim university librarian since June 2009, was appointed the Caleb T. Winchester University Librarian on March 1.
During her interim appointment, Tully has administered the Library with creativity and dedication and has shown the strong leadership needed in these challenging times.
Tully earned her B.A. in philosophy and graduated magna cum laude from Williams College; she earned her M.L.S. degree from the University of Michigan.
Tully brings a wealth of experience to Wesleyan, having served in both public and academic libraries.
"Many of you have worked with Pat during her terms as associate university librarian and interim university librarian, and are well aware of her impressive organizational skills, her dedication to Wesleyan, and her uncompromising commitment to support the scholarly work of faculty and students," says Joe Bruno, vice president for academic affairs and provost. "I am delighted to have her continue in this important leadership position, and ask you to join me in thanking and congratulating her."
Tully says she is "thrilled and honored" to have been appointed the Caleb T. Winchester University Librarian.
"I am somewhat daunted as well, since I am following in some very impressive footsteps—most recently and notably those of Barbara Jones, an enthusiastic champion of intellectual freedom who led Wesleyan University Library to improve both its physical facilities and organization. Her strong leadership has the library's ability to adapt to rapid changes in technology and information access, so we can continue to provide the best services possible to Wesleyan students, faculty and staff," Tully says.
Since Jones retired in June 2009, the library has undergone its share of budget reductions and staff retirements.
"It has been a year of sometimes painful adjustments to the new economic reality. Through all this, library staff and librarians have shown a versatility and dedication to Wesleyan that is inspiring," Tully says. "I feel very lucky to work with such an amazing group of people, and am excited at the prospect of leading them at a time of such challenge—and promise."
Tully believes Olin Library stands out in the same way that Wesleyan University does.
"Wesleyan is a liberal arts university with strong graduate programs, and Wesleyan University Library has similarly strong collections to support both undergraduate and graduate learning, teaching and research.  The library develops and maintains systems and processes that help students and faculty discover, access and use content effectively, whether or not in the library's collections. But as strong as our collections and systems are, what makes the library stand out is the people who work here—library staff, librarians, and student workers. They have a strong commitment to serving the information needs of Wesleyan students, faculty, staff and visitors."
The library contains a number of beautiful, functional study spaces—including the ground floor of the Science Library, and the Jakobson Periodical Reading Room, the Smith Reading Room and the Campbell Reference Center in Olin. The World Music Archives, which is housed in Scores & Recordings on the third floor of Olin, contains important, unique collections of field recordings from Indonesia, South Asia, and around the world. Special Collections & Archives contains a variety of important collections. These include a rare book collection developed to support undergraduate study, artist's books important for their form as well as their content, University archives used by Wesleyan students, faculty, administrators and visiting scholars, and the papers of prominent cultural and literary figures such as John Cage and William Manchester.
"And whereas many such collections are hidden away in other libraries, at Wesleyan librarians actively work with faculty and students to determine how they can be used to enhance the academic experience," Tully says.
Did a friend send you this? Email newsletter@wesleyan.edu to subscribe.n