Michelle Dube: Development Officer Specializes in Major Gifts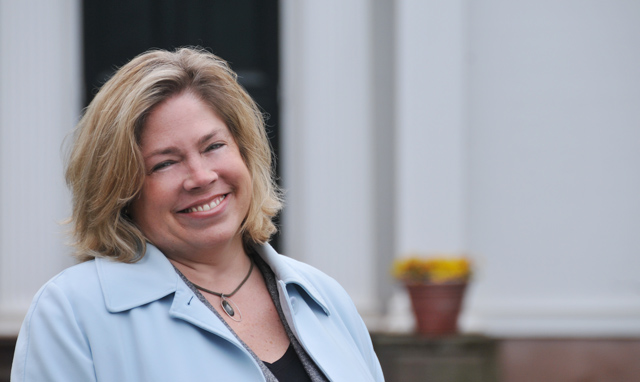 Q: Michelle, when did you come to Wesleyan?
A: I arrived on campus in August, 2007 to work as a development officer in University Relations.
Q: What department are you part of?
A: Major gifts. We solicit financial gifts of $100,000 and higher.
Q: How many alumni do you generally work with?
A: Around 225 alumni and parents. For the most part, we do maintain relationships with the same individuals.
Q:  How do you encourage alumni to support Wesleyan during these economically difficult times?
A: I think last year was more of a challenge than this year appears to be. Alumni and parents who give at this level want to maintain their relationship with the university, and although everyone is reevaluating their financial priorities, they understand the importance of their support.
Q: How do most "major gift" donors give to the university? What do their gifts support?
A: Most of our donors give outright gifts of cash or stock. And our planned giving team does a great job of working with donors to make life income gifts, or include Wesleyan in their estate plans. Our donors support financial aid, academic programs, facilities, and the general operating budget, either through the Wesleyan Fund or Wesleyan's endowment.
Q: Do you travel? How often and why?
A: Usually one week every month. I work with alumni and parents in the Pacific Northwest, the Southwest, and the Rockies, not to mention Texas, Ohio, West Virginia, New Jersey, Pennsylvania and New York City. Maintaining face-to-face contact is an essential part of our job.
Q: Who else is part of the Major Gifts team?
A: Robert Mosca, Kris Zywocinski and I work for Christine Pina '91, who is the director of major gifts within University Relations.
Q: Where did you go to college and what did you major in?
A: I graduated with an English/French double major from Middlebury College. Before coming to Wesleyan, I worked as the director of major gifts for The Masters School, in Dobbs Ferry, N.Y.  I actually visited Wesleyan eight years ago, and loved the energy and spirit I felt on campus. I decided then that if I wanted to work in higher ed, I wanted to work here.
Q: Where do you live and do you have family in the area? Where are you from originally?
A: Although I've lived all over the country, I actually grew up just 35 miles north of Middletown, in Simsbury, Conn. My parents still live there, and I currently live in Middletown.
Q: What are your hobbies and interests?
A: Probably no surprise, but I love to travel!