MoCon to be Demolished in 2010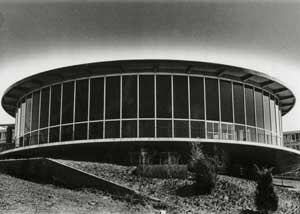 On April 20, 2010, Wesleyan President Michael Roth '78 wrote a blog, declaring that the university will not be able to maintain McConaughy Hall. The building, constructed 1962 as "The Freshman Dining Hall" closed in 2007 following the opening of Usdan University Center.
When I began my tenure as President of Wesleyan in the summer of 2007, I strolled over to my old Foss Hill room just across from the entrance to McConaughy Dining Hall. Standing in the circular driveway between my frosh dorm and the dining hall, I could almost hear the music that my roommate Richie and I blasted through the speakers we'd set in the window. On that Arrival Day in August 1975, we decided to announce our start as Wesleyan students by turning up the volume on Bob Dylan's Like A Rolling Stone: How does it FEEEEL?

But in the summer of 2007 MoCon stood empty, and I wondered what the previous administration had envisioned for it. I soon learned that in planning the Usdan University Center, various uses for MoCon were studied but that none seemed feasible. I began making my own inquiries: MoCon as small theater? art gallery? studios? residence? Nothing seemed to work either economically or architecturally. The building just didn't accommodate the needs we had, or, if we tried to make the structure fit those needs, it became just too expensive.

Still, I really hoped to solve this riddle. I thought back to the great Pete Seeger concert I saw in MoCon, or to the night that Keith Jarrett walked off stage because a bottle rolled down the stairs. (He came back. We listened.) I don't remember any particular meals, but I have plenty of memories of the great people I met in the building. And I know that thousands of other Wesleyan alumni have their own memories anchored to the same spot.

So this winter I went back to the numbers and to the architects (and I walked through the building). We are presently undertaking an exciting renovation of the Squash Courts, and we just finished a revitalization of Davenport-Allbritton that is a great success. I'd hoped to find something parallel with MoCon. I talked with a friend who is a campus architect and my architectural collaborator at California College of the Arts. We had done wonderful re-use projects in San Francisco, and I thought we might come up with something for Wesleyan. But our brainstorming about MoCon didn't prove fruitful as we drilled down on a variety of ideas. I again consulted with alumni in the field as well as with knowledgeable people on our own faculty. The conclusions, alas, were the same.

In order to keep McConaughy as an active part of campus we either have to invent a need that the current structure could meet, or we have to re-build the dining hall as something else in order to "preserve it." Dividing up its great open space for some specific purpose that is antithetical to its design doesn't really keep MoCon, nor does replacing all its essential components for use as an outdoor pavillion. And the expense would be staggering….millions over the next few years.

Ideas for reusing MoCon have been solicited for years, and delaying a decision any further seems to me irresponsible. So, with great reluctance I have reached the conclusion that we will not be able to maintain McConaughy. Instead, we'll disassemble the building and recycle almost all its materials. Sometimes buildings reach the end of their lives, and this is what has happened with MoCon.

I know some students and alumni will be disappointed, and, like me, they will miss the cool circular structure that was part stage, part ballroom, part spaceship. We will find another space to dedicate to the memory of President McConaughy. In a week or so, we will post on the homepage a link to a site that highlights the events that took place at MoCon while encouraging readers to post their own memories of the dining hall.

I remember Dylan's question: "How does it feel?" The answer is, "It stinks." But the alternatives feel even worse. So, this summer we will say goodbye to McConaughy Dining Hall. As for that spot in front of my old Foss Hill room, we will restore the hillside. As Construction Services Consultant Alan Rubacha noted in The Argus: "We will allow water that used to run into storm drains to percolate into the earth. We will provide a much needed open space for birds. This open space will provide spectacular views into and out of Foss Hill."

I will surely miss McConaughy. But I try to look forward to those new perspectives.