Admitted Class of 2014 Most Selective Ever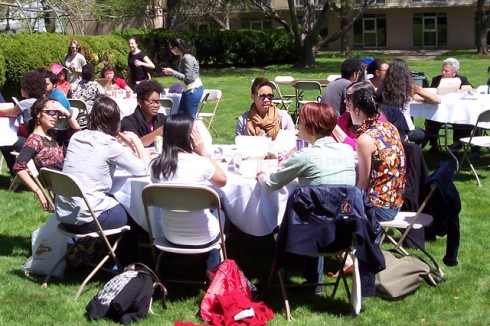 This year Wesleyan received 10,656 applications to join the university's class of 2014, an increase of nearly 6 percent from last year. Of those, 2,125 or just under 20 percent, were offered admission, giving Wesleyan its most selective admission cycle on record.
"This is a really superb and exciting group of students who are poised to join the Wesleyan community," says Nancy Hargrave Meislahn, dean of admission and financial aid. "We had another significant increase in the overall number of applications this year and we had to make a lot of difficult decisions. But the students we chose were absolutely the best match for Wesleyan."
Some of the highlights of the admitted class include:
– Nearly 14 percent are the first in their family to attend a four-year college or university.
– More than a third are from ethnic and racial backgrounds that are under-represented in higher education.
– Approximately 12 percent have a native language other than English
– More were admitted from the Midwest and from outside the USA, with only 37% from New-York and New England this year. Increases from Texas, Florida and Georgia and from India and China led the change.
As for their academic qualifications, Hargrave Meislahn says the group is "absolutely stellar," scoring the 98th percentile in standardized tests. In excess of 80 percent of the students took calculus in high school, four years of a foreign language, as well as biology, physics and chemistry.
However, the quality admitted class goes beyond test scores or coursework.
"The intellectual curiosity and the achievement of these students in and out of the classroom is just breath-taking," Hargrave Meislahn says. "They have a curiosity about their place in the world and a desire to make the world a better place. That is what is driving and motivating them, and that's what typifies Wesleyan students in general. That's what makes these students such a good match for us."