Gallagher's '91 MusicianCorps featured on NBC Nightly News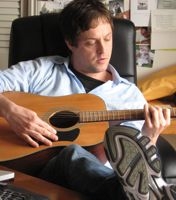 MusicianCorps, the brainchild of CEO and founder Chris "Kiff" Gallagher '91, was the subject of a March 8 segment on NBC Nightly News with Brian Williams. National correspondent John Yang '81 reported, interviewing Gallagher and a number of the MusicianCorps Fellows and students and showing footage of their music classes.
Modeled after such programs as Americorps and City Year, Gallagher's nonprofit Music National Service launched MusicianCorps to offer a job and paycheck to musicians eager to make a difference in a community by sharing their passion for music in an under-resourced teaching environment.
The students benefitting from MusicianCorps — dubbed "a domestic musical Peace Corps,"— are in five cities this year, San Francisco, Oakland, Chicago, New Orleans and Seattle, with 20 Fellows serving full-time in high-need venues such as public schools, youth centers, children's and veteran's hospitals.
Says Gallagher in a related Nightly News segment: "I think the desire to create music is really a desire to connect. … It's a desire to get something out and to connect with humanity. I think the same is true for the service impulse. It's an opportunity to transcend division."
To learn more about the Music National Service organization visit http://www.musicnationalservice.org.
For the on-air TV piece: Making music, with a mission visit
http://www.msnbc.msn.com/id/3032619/#35770532
March 8: Twenty  teachers in four cities are among the first class of fellows in MusicianCorps, a new program providing regular paychecks for music teachers and a hands-on music program to cash-strapped public schools. NBC's John Yang reports.