Woskie '10 Awarded Watson Fellowship to Research Community Health Workers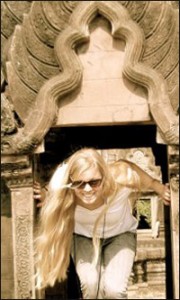 Liana Woskie '10 believes that Community Health Workers (CHWs) can be effective and vital components of systems that serve the health needs of hard-to-reach populations. However, their success varies across cultures and program models. She wants to know why.
As a 2010 Watson Fellow, Liana Woskie '10 will research CHWs systems through case studies of programs located in Bangladesh, Tanzania, India, Thailand and Lesotho. Woskie, a College of Social Studies major, is one of only 40 students in the world to receive a Watson Fellowship this year. The fellowship, which includes a $25,000 stipend, offers promising college graduates a year of independent, study and travel outside the U.S. in order to enhance their capacity for effective resourcefulness, leadership and participation in the world community.
Her project, "Bringing Primary Healthcare Home: The Community Health Worker" is designed to understand the structure and implementation of CHW networks from a community perspective.
"I hope to learn whether CHW programs were implemented in collaboration with their patient population and what the nature of their communication strategies has been with their given communities," Woskie says. "Second, I intend to explore how they address cultural understandings of illness and disease in their trainings, curriculum and ultimately in their day-to-day outreach. "
Much of Woskie's research will be performed through shadowing and interviewing community health workers and program administrators.
CHWs are family members, friends, or even other patients who provide health education, refer people who are ill to a clinic, provide hospital accompaniment, or deliver medicines and social support to patients in their homes. They do not supplant the work of doctors or nurses, but rather serve as a vital interface between the clinic and the community, Woskie explains.
"CHWs are of similar cultural background as their patients, making their relationship less hierarchical," she says. "They have an intimate and holistic understanding of not only the life circumstances of their clients, but also the cultural health-related norms surrounding particular diseases as well as the social connotations and practices associated with health in general. This knowledge improves the ability of the CHW to provide comprehensive, relevant and effective care, offering an incredibly powerful link between clients and medicine."
Woskie has a full resume of community health experience. She worked as an intern at the Community Health Center in Middletown; the Middlesex Coalition for Children in Middletown; the Aids Action Committee in Boston, Mass.; Partners in Health in Boston; Innovations for Poverty Action at the Harvard School of Public Health; and Habitat for Humanity in Middletown and New Haven, Conn.
At Wesleyan, she has worked as a health care policy advisor for the Roosevelt Institute; as a teaching assistant for the Sociology Department's Health of Communities Service Learning Seminar; and most recently, as a clinic development team member for the Shining Hope for Communities in Kibera, Kenya, an organization founded by Wesleyan students.
Woskie will be abroad one year. She plans to spend the first two months in Bangladesh working with the Bangladesh Rural Advancement Committee (BRAC), an organization that has served as an innovative leader in global development and health, implementing CHW outreach both domestically and in throughout the developing world. She'll then spend three months in India visiting a CHW Self-Employed Women's Association site in West Bengal and make field observations at the Jamkhed Comprehensive Rural Health Project. She'll move on to Thailand's at the Mahidol University School of Public Health in Bangkok to visit the Mahidol School of Public Health and the Population Development Association.
"Thailand's CHW programs offer an interesting intersection between medical treatment and religious practice. Buddhism is the dominant religion in Thailand and factors strongly into perceptions and understandings of health," Woskie notes.
In Tanzania, she will visit the Tanzanian Essential Health Care Programme to explore the benefits and challenges of a developing-to-developing implemented program, and spend time with the African Medical and Research Foundation. After two months in Tanzania, she will spend three months in the mountainous rural areas in Lesotho working with AIDS/HIV clinics.
"As a Watson Fellow, I hope to explore how, as members of the communities they serve, CHWs can bridge hard-to-reach communities and biomedical treatment in different contexts," she says. "My project will enable me to globally contextualize my interests and past work by learning from different models in different contexts."