NSF Grant Improves Numerical Modeling Capacity at Wesleyan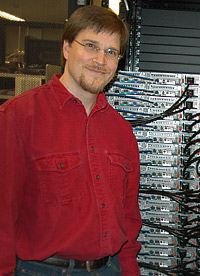 A $298,736 grant from the National Science Foundation (NSF) will allow Wesleyan to remain competitive in numerical modeling research and education on an international level.
Francis Starr, associate professor of physics, David Beveridge, the Joshua Boger University Professor of the Sciences and Mathematics, and Michael Weir, professor of biology, director of the Hughes Program in the Life Sciences, received the grant for a project titled "Major Research Instrumentation – Recovery and Reinvestment program (MRI-R2): Acquisition of Shared Cluster and Database Computing Facilities at Wesleyan University."
The grant, awarded over three years beginning May 1, will fund growth of the computer facilities for the university's Scientific Computing and Informatics Center (SCIC), including expansion of the university's high-performance computer cluster and a new genomics database server.
Wesleyan currently runs 36 Dell computer nodes for the academic computing cluster known as "Swallowtail." Each machine is capable of processing eight jobs simultaneously, for a total of 288 jobs. Another 129 computer nodes called "Sharptail," recently donated by Blue Sky Studios, are capable of processing two jobs simultaneously each, for a total of 258 jobs.
"With the NSF grant, we anticipate roughly doubling our capacity," Starr says. "Think of it as setting up a virtual laboratory in the computer where we can perform experiments that might be challenging in the real world."
The SCIC computer facilities are used for research and teaching by departments across the university, with primary use by Natural Sciences and Mathematics (NSM). Researchers from physics, chemistry, biology, molecular biology and biochemistry, computer science and astronomy will use the system, as will faculty and students in Wesleyan's Molecular Biophysics and Informatics and Modeling certificate programs.
"These interdisciplinary programs emphasize integration of computational thinking and modeling across the curriculum and will benefit greatly from this new support," Weir says.
Like the existing cluster, the new facilities will be open for the entire campus. Users access the system through Wesleyan's campus network system, WesNet.
The cluster will physically be located in Information Technology Services on the fifth floor of Exley Science Center, and managed by Henk Meij, applications technology specialist.
Meij is in the process of working with vendors to meet Wesleyan's expectations. He is entertaining bids from Dell, Sun, HP and Advanced Clustering. He's also entertaining a "High Performance Computing Cloud," offered by a company called Platform, Inc.
"With an HPC Cloud, we would create a virtual cluster to our specifications on their hardware located off campus, so that outsources all the heating/cooling, power and above all maintenance and upgrade requirements," Meij says.
The new grant builds on the previous NSF grant awarded in 2006. That grant, also proposed by Starr and Beveridge, supported a high-performance cluster that offered 10 terabytes of storage.