Fulbright-Hays Fellowship Takes Field to Sri Lanka to Study Sinhala Music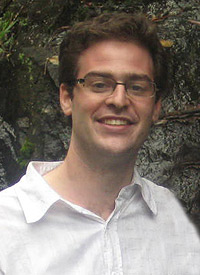 For two years, music graduate student Garrett Field will live in Sri Lanka studying the lives, music, poetry and writing of three composers who influenced Jatika Gi, the Sinhala nationalist poetry-song.
As a 2010 recipient of a Fulbright-Hays Doctoral Dissertation Research Abroad (DDRA) fellowship, Field will have the opportunity to complete his dissertation on Sunil Santha, W.D. Amaradeva, and Ananda Samarakone – whose careers, music, and poetry articulated different strands of Sinhalese nationalist thought. The fellowship comes with a $26,000 award.
"The Jatika Gi artists played a significant role in the development of Sinhala cultural nationalism and thus served as an impetus to the Sri Lankan independence movement. However, no one has critically examined each artist's career and oeuvre to see whether and how he participated," Field wrote in his project proposal. "I propose each artist represents a different articulation of Sri Lankan Sinhala nationalist ideology between 1940 and 1960."
Investigating how Jatika Gi was an articulation of various Sinhala nationalist sentiments between 1940 and 1960 requires interdisciplinary research that is historical (archival), ethnographic (formal recorded interviews and informal discussions), musicological (lessons and transcription) and literary (poetic translation). Field will divide his research into three, four-month periods, with each period focusing on one of the three artist's lives and oeuvres between 1940 and 1960.
Field will support his work at the Graduate Studies Unit of the University of the Visual and Performing Arts in Colombo, Sri Lanka. Lecturers in the North Indian Music Department, knowledgeable in Jatika Gi music, have agreed to teach Field the oeuvre of Samarakone, Santha and Amaradeva between 1940 and 1960, in recorded music lessons. Samarakone wrote the music for Sri Lanka's national anthem in 1951 (see video).
[youtube]http://www.youtube.com/watch?v=oc7D-MCQGVQ&feature=related[/youtube]
He learned Sinhala during a language fellowship in 2009 after two semesters of private study. He studied Indian sargam notation for 10 years, which enables him to transcribe music as it was originally created.
Field developed this project under the guidance of his dissertation advisor B. Balasubrahmaniyan, adjunct instructor in music, and Mark Slobin, professor of music. Praneeth Abayasundara, professor of music at UVPA and a lyricist/poet in the Sinhala film music industry, will oversee Field's Sinhala Jatika-Gi poetry translations into English.
"Four years of advanced Indian classical study under Balasubrahmaniyan have given me the musicological skills to analyze Jatika Gi music, (and) Mark Slobin's wide ranging knowledge of ethnomusicology history and issues, as well as his editing experience will be instrumental to the success of this project," Field says.