Gemma Fontanella Ebstein Plays Key Role in Building Relationships with Alumni, Staff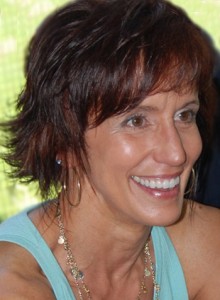 If you've enjoyed attending Wesleyan events, chances are that you have Gemma Fontanella Ebstein to thank.
As associate vice president for external relations, she has had an ever-evolving set of responsibilities, but one constant has been ensuring that events for alumni, parents and the campus community are first rate. Under her direction, for example, Wesleyan merged Commencement and Reunion weekends into one event that rapidly has become a valued Wesleyan tradition.
"Gemma has great management instincts and I can absolutely count on her to get things done," says Barbara-Jan Wilson, vice president for university relations. "We can't have successful fundraising without building excellent relationships with all our constituencies, and Gemma plays a key role in that effort. Wesleyan is fortunate to have her energy, positive attitude and leadership capability."
During her 20 years at Wesleyan, she also led planning for Wesleyan's 175th Anniversary Celebration, merged Homecoming and Family Weekends, increased attendance at both that event and Reunion, reorganized the University Lecture Series, and established affinity councils as a new way to engage alumni. Affinity councils have been organized around athletics, admission, career planning, and philanthropy and public service.
Joe Fins '82, chair of the Alumni Association, credits the affinity councils with "engaging alums around shared experiences and current interests. They've made our Alumni Association more responsive to the entire community."
While continuing to oversee the Alumni & Parent Relations Office (APR), Ebstein recently brought to a successful conclusion an assignment in University Communications that took her outside her more usual roles in University Relations. Under her leadership, Communications reorganized to sharpen its focus on the Web and new media, as evidenced by the University's new homepage that offers new content every day.
Having handed off the leadership of Communications to Bill Holder '75, Ebstein has assumed responsibility for supervising the Career Resource Center. She will help the CRC and APR develop connections between alumni and students through networking and internships, and she will focus on the growth of professional affinity networks such as one the CRC and APR recently developed for alumni attorneys. Helping the CRC plan for its move to the renovated Squash Building will be another focus for her.
"I've always loved new challenges and the chance to be innovative," she says. "Wesleyan has provided me with great opportunities, and I'm grateful."