Chan '11 Teaching Athletes, Helping Teens Through Mind, Body Training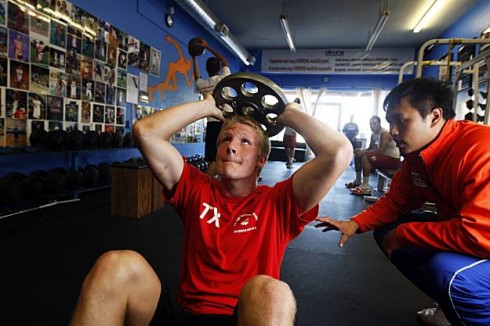 When Wesleyan student-athlete Adrian "A.J." Chan '11 isn't studying for an economics exam or making a tackle on the football field, he's busy training Olympic athletes, college and high school students, NFL Superbowl Champions and NBA and NCAA team members.
He's also working with underprivileged youth who use sports as a vehicle for life lessons.
Chan, who co-manages the Oakland, Calif.-based gym, Ant's Mind and Body, prepares athletes by training the body, mind and soul as one. His business, which celebrates its 1-year-anniversary this month, was recently featured in The San Francisco Chronicle.
"The training system is a combination of the most efficient, effective, and progressive systems in the world," Chan explains. "It takes from some programs like the Soviet Black Training Model of building strength and speed and martial arts to increase free range of movements, longevity and flexibility with strength at the end range. The program was then modified to meet the demands of American sports and to increase performance. The program is constantly evolving so an athlete does not plateau."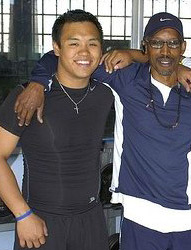 The athletic programs were created by physical therapist Anthony "Ant" Eggleton, who started training inner-city kids from his garage. Chan met Coach Ant five years ago and was instantly drawn to his ways of teaching.
"I've learned a lot about training, movement skills and wellness. However, the greatest gift that I have learned is his philosophy and outlook on growing oneself physically, but most importantly mentally, emotionally and spiritually," Chan says. "His level-headed approach has taught me that with guidance every individual can challenge themselves to keep learning, growing and be more open minded."
By 2009, the coach-pupil bond led to a business venture. Chan wanted to create an after school program that provided strong academic resources, career resources, athletic resources, and mentorship that would be able to meet the needs of a diversity of kids. He met with leading philanthropists, investors, child development specialists and businessmen to get advice about starting an organization and creating a business plan. With Coach Ant as a partner, Ant's Mind and Body was open for business.
At Ant's, the athletes can participate in a strength program, speed, agility and movement program or sports specific training for basketball, baseball,  football, tennis, fighting, lacrosse, sprinting/throwing, soccer, volleyball, swimming and golf. They also offer NFL draft and NBA draft prep.
The program focuses of working the subtle energy system through concentrated breathing, at juncture of meridians and acupuncture points. They use altered breathing patterns to speed up or slow down brain waves. Even the colors in the gym help increase concentration and relaxation.
"The Ant's Mind and Body Family is a diverse one—we encompass many different ethnicities, walks of life, and ages that have trained with us for days, weeks, months, and even years," Chan says. "All of our clients come from an extremely diverse background and we hope to use sports and our walls to convey our singular goal; that everyone has a gift and the opportunity to use their gifts to better the lives for themselves, their communities, and the greater world."
To date, Ant's Mind and Body has trained student-athletes at Wesleyan, Stanford, University of Connecticut, Princeton, Yale, Dartmouth, Georgia Tech, Colby College, Oklahoma State, Purdue University and many more. They started out with 50 clients and have expanded to 200.
Chan personally has coached high-school basketball and trained professional athletes like Andre Ward, Olympic Gold Medalist and WBA champion boxer; Shanye Skov, Stanford University football player; Quentin Thomas, University of North Carolina basketball player; Alexis Gray-Lawson, University of California -Berkeley basketball player; and Wesleyan student-athletes Morgan Hanson '13 and Peter Moder '11.
While most are paying clients, many are subsidized. Coach Ant's initial goal was to help kids get off the streets and then into college through sports. After graduating, Chan plans on returning to the Bay Area to expand Ant's Mind and Body.
"There are millions of kids and adults out there with and without the financial, educational and emotional resources who could greatly benefit from our services," Chan says.  "As Coach Ant has allowed me to be a part of his path, I feel that my duty is to now expand his journey and spread our gifts."