Wood-Framed Housing Receiving Home Energy Solutions Program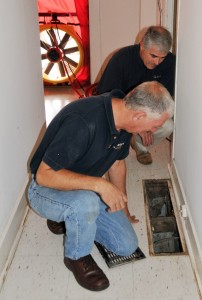 In 1900, when the student residence at 24 Fountain Avenue was built, heating oil was cheap. Insulation wasn't a concern. Window sealant didn't exist. Hot water gushed from the shower heads.
"We call homes like this 'balloon framed,"' explains Gary Rawlings, lead energy auditor technician for Wesleyan's contractor Lantern Energy. "Air from the basement flows up through the walls and escapes through the window frames, the area around plumbing pipes, doors, and attic. In this particular house, there's a big gap around the air duct. That's never a good sign when you can see down into the basement."
The 24 Fountain residence is one of eight homes on the street that took part in the Home Energy Solutions (HES) program on Aug. 18. Eventually, all 150 homes on campus will receive an energy audit, which may save the university more than $200 a year, per house, explains Bill Nelligan, director of environmental health, safety and sustainability.
The HES program is administered by Connecticut Light and Power Company and subsidized by the Connecticut Energy Efficiency Fund through a charge on customers' energy bills. Wesleyan pays $50 for each audit through Lantern Energy. Starting Oct. 1, Wesleyan's Sustainability Committee along with Lantern Energy will offer HES to all Wesleyan faculty and staff at no cost.
HES includes a blower-door test to pinpoint drafts and leaks; professional sealing; a duct test to access air leaks; the installation of faucet aerators and low-flow showerheads; installation of energy-efficient compact fluorescent light bulbs; rebates for qualifying appliances; and additional resources to help Wesleyan save energy.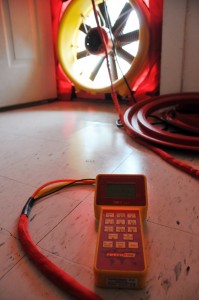 The blower-door test on 24 Fountain revealed that the home was passing 5,015 cubic feet per minute of air.
"Feel this draft near the window frame," Nelligan instructs. "These are brand new windows. But there's cold air coming into the kitchen from the basement."
The solution? A $2 bottle of clear caulk.
"This is the worst house on the street so far," Rawlings says. "There's a lot of drafts. Our goal is to seal it up and reduce the loss by one or two thousand CFMs. We're trying to upgrade these homes to today's standard as far as being energy efficient."
This treatment brought the escaping air flow down to 2,620 CFM, which will save Wesleyan an estimated $484 on annual fuel costs alone. That's not all. By replacing the shower heads, Wesleyan will save $99 annually on natural gas used to heat the water, and $52 annually by insulating the heating ducts.
In late August, Wesleyan began auditing all student homes on Home Avenue.
"Eventually, we'd like to get every home on campus audited," Nelligan says. "The savings will be huge, but it also means our students will be more comfortable."