Hingorani Receives State Award for Tobacco-Related Illness Research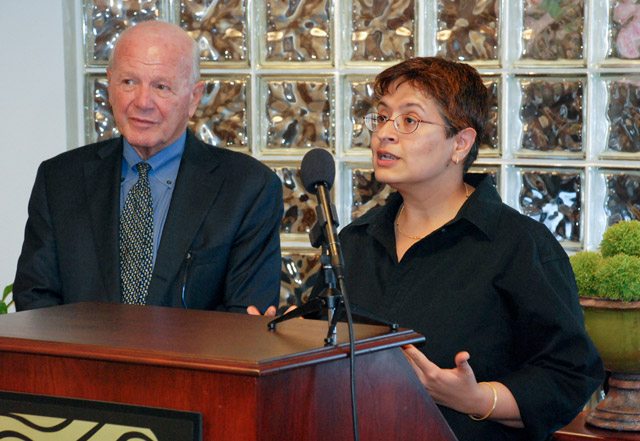 A Connecticut Department of Public Health (DPH) award will fund a biomedical research project on tobacco-related illnesses.
On Oct. 26, Senator Joseph Crisco (D-Woodbridge) presented Manju Hingorani, associate professor of molecular biology and biochemistry, with one of the eight awards, supported by the Connecticut DPH Biomedical Trust Fund. Hingorani received a $165,083 grant to promote understanding of the mechanisms whereby DNA mismatch repair suppresses carcinogenesis and development of refractory cancers.
"While we have made considerable progress in the area of tobacco use prevention, tobacco-related illnesses continue to be the leading causes of disability and death," said Senator Crisco, sponsor of legislation in 2005 creating the Biomedical Trust Fund in a state press release. "This research is helping to shine new light on how tobacco use contributes to chronic diseases, and moves us forward in the effort to save lives of those stricken with cancer, heart disease, and other smoking-related diseases, which are leading causes of death in Connecticut."
Hingorani's study was selected from 17 highly-competitive applications. This is the first time Wesleyan has received a grant from the Biomedical Research Trust Fund.
The grant will fund a post-doc and research associate's projects through September 2012.
The funding "is a positive indication that Connecticut is moving forward with a strong commitment to carrying out the goals of the biomedical research bill, and that is to use a portion of the tobacco settlement funding to provide funding for research efforts to help fight cancer, heart disease, and other diseases that may be linked to smoking," Senator Crisco said in the press release.
According to state health officials, tobacco is the single most preventable cause of mortality and morbidity in our society. In Connecticut, tobacco use is associated with over 5,000 deaths per year. These deaths are primarily caused by cancer, heart disease and chronic obstructive pulmonary disease. Tobacco also causes secondary adverse health effects to nonsmokers exposed to environmental tobacco smoke. Exposure to environmental tobacco smoke is a significant cause of morbidity in children that manifests itself in diseases such as asthma, bronchitis and pneumonia.