Jessica Carso: "Greatest Person of the Day"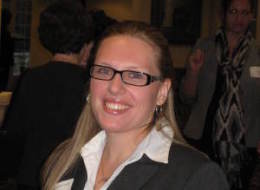 Every day, The Huffington Post highlights one 'Greatest Person' — an exceptional individual who is confronting the country's economic and political crises with creativity, generosity and passion. On Nov. 9, the Post featured Jessica Carso, managing director of University Relations and the Green Street Arts Center, "who has made a career out of giving back to the small Connecticut town where she grew up."
According to the article, Carso "struck us as a prime example of someone truly making a difference in her community. She is currently the managing director of the Green Street Arts Center, a community-based organization that works to make the arts available to any young person regardless of socio-economic background. And her work doesn't end there. She also works for a women's advocacy group and an organization that helps the homeless transition into stable lifestyles."
In the Q&A, Carso discusses her role at Green Street Arts Center, the Fund for Women and Girls and A Hand-Up, Inc. She talks about her heroes and having the passion, desire and drive to make a difference.
"Over the last few years, I have learned a great lesson about my work, and that is, it is my life. Whether it is my daily work at Green Street, my involvement in community organizations, or whether it's delivering food to the local humane society or making a small monetary donation to one of my favorite charities, I know each is my way of giving back," Carso says in the article. "I only have this one life, this one lifetime and my philosophy has always been: make it count!"
Read the entire Q&A online here.