Rosenthal Appointed Provost, V.P. of Academic Affairs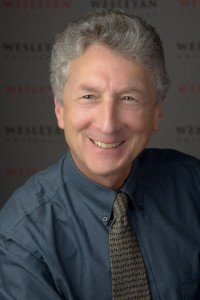 Rob Rosenthal, the John E. Andrus Professor of Sociology, has been appointed provost and vice president for academic affairs. It is a position Rosenthal held on an interim basis since the summer.
Rosenthal has responsibility for matters relating to the recruitment and promotion of the faculty, the content of the curriculum, continuing studies, athletics and the library. He also is responsible for meeting budget targets for faculty compensation and for academic departments and programs.
In the few months that he has held this position on an interim basis, Rosenthal, says Wesleyan President Michael Roth, "has quickly assumed a leadership role in the development of Wesleyan as an 'engaged university,' and he has articulated a vision that connects our curriculum to meaningful work in the public sphere."
Roth adds that Rosenthal will have a key role in guiding Wesleyan through the forthcoming reaccreditation process, which will "provide the university with an opportunity to evaluate the success of our efforts to energize Wesleyan's distinctive educational experience, to enhance recognition of Wesleyan as an extraordinary institution, and to work within a sustainable economic model while retaining core values."
Rosenthal has served Wesleyan with distinction as chair of the faculty, as director of the Service Learning Center, and as a celebrated scholar-teacher. He has a B.A. in sociology and English from Livingston College in New Jersey, and a M.A. and Ph.D. in sociology from the University of California at Santa Barbara.
He joined the Sociology Department at Wesleyan in 1987, teaching courses in urban sociology, social movements and community research. He has written widely about homelessness, including Homeless in Paradise (1994), and the use of music in social movements, including Playing for Change (2010). He was a founding director of Wesleyan's Center for Community Partnerships and Service-Learning Center.