Cottier '12 Experiences Cities Across the Globe
Charlotte Cottier '12, at right, bikes through rice paddies in Mai Chau, Vietnam during the Cities in the 21st Century Program in December. Cottier spent 17 weeks studying the development of the world's cities.
During the fall semester, Charlotte Cottier '12 set a lofty goal: "I wanted to pop the Wesleyan bubble and become a citizen of the world," she says. "I wasn't quite sure what this meant, but I knew that growth, challenge, and change would be necessary."
Cottier applied for the Cities in the 21st Century Program, coordinated through the International Honors Program (IHP). For 17 weeks, she and fellow student scholars had the opportunity to examine how the structure of a city enhances or impedes growth on a world-wide tour. She observed the effects of urban sprawl in Brazil, witnessed revitalization in Detroit and studied how wealth has influenced society in Vietnam.
"Students on the program examine the intentional and natural forces that guide the development of the world's cities," explains Erin Deegan, university relations manager at IHP. "It combines an innovative urban studies academic curriculum with fieldwork involving public agencies, planners, elected officials, NGOs and grassroots groups in important world cities where exciting changes are taking place."
Cottier's journey began last August with a two-week stint in Detroit, Mich., a city known for its devastation and rebirth. She observed how "incredible" community organizing and social entrepreneurship can thrive amongst inefficient leadership, and concentrated her time there learning how "mistakes of the past have given rise to room for ideas of the future."
"I've heard [Detroit] is a wasteland, and that was a horrible thing to hear. But after being here a week and a half, I'm full-heartedly with the idea of revitalization," Cottier said during a radio interview on The Craig Fahle Show. "We've met so many artists, so many people just trying to make the city work, and it's been a great experience."
In September, Cottier and her fellow student scholars made a five-week visit Brazil, starting in the country's most populated city, Sao Paulo. There, she concentrated on the effects of explosive growth and urban sprawl on modern cities, including resulting problems with service delivery, socio-spatial segregation and waste disposal. She visited elaborately dilapidated favellas (slums) and mountainous landfills alike. The students also were present for the country's 36th presidential election of controversial candidate Dilma Rousseff.
"Sao Paulo made me rethink what it means to be a consumer in the 21st century; all of our money and waste doesn't just disappear when we spend/dispose—they leave definite and ultimately unsustainable marks on our world," Cottier says.
In contrast to the smog-filled, people-packed Sao Paulo, Cottier was impressed by the "green" city of Curitiba, located in the southern part of Brazil. She noted how the city's natural beauty is emphasized by parks, green spaces and unique glass architecture. She also applauded the city's successful transit-based planning.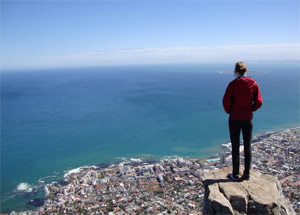 Students in the Cities Program traveled on to Cape Town, Africa for five weeks, studying how South Africa's apartheid past was manifested in the social atmosphere. Cottier continued her political education by undertaking a case study on the accessibility of local government. Cottier held many discussions with residents- street vendors, stay-at-home parents and lecturers alike, learning that everyone had story – either first-hand or familial.
"Although the city is incredibly beautiful, I found it difficult to carry the burden of increasing knowledge about the scars of apartheid and the great problems that still remain with the country's political system," she says.
Cottier says she'll always remember her home stays in Cape Town. For two weeks, she stayed with a family in Bo-Kaap, the Muslim area of Cape Town, finding warmth, conversation, and laughter with her five "siblings." She also stayed with a family near the Cape Flats – an area designated for Black Africans under Apartheid.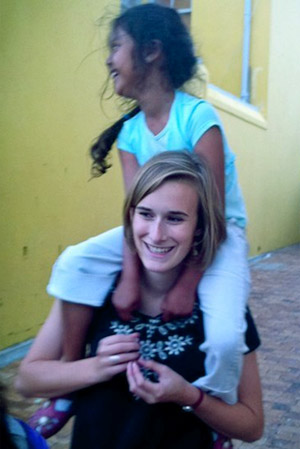 "My home stay grandmother there taught me to be less self-conscious, to take just a moment out of my day to enjoy the simple pleasures of South African soap operas, and to value community as family," Cottier recalls.
She spent the final five weeks of her journey abroad in Hanoi, Vietnam, concentrating on culture and politics. She leaned how the Socialist government worked, and the economic concessions it has made to be a world competitor. Although the corrupt political system worried Cottier, she spent the most time considering the place of women in Vietnamese society. She spoke to her 19-year-old host sister about her future and pressures to marry.
"Vietnam was crowded, noisy and aggressive, but it ended up being my favorite country that we visited. The streets were narrow, ancient cultures were palpable, and yet there was an undertone of change and modernity that was familiar," she says.
Cottier returned to the U.S. in December, enlightened by her cultural experience. "I've always been a critical citizen of the United States, complaining about our culture of excesses and uninformed views, yet I was excited to return home with ideas about what we have been doing right, and what I can actually change," she says. "IHP gave me the freedom to imagine a new world, and the skills and knowledge to decide on a practical level exactly how that world would work."
Cottier, who is double majoring in sociology and American studies, hopes to have a career in public history.
The Cities Program allowed her to create a semester-long comparative analysis research project on the place of monuments in modern cities. She will use the valuable interviews, observations, and other first-hand research amassed for projects at Wesleyan. In addition, she gained course credit at Wesleyan for taking Urban Politics and Development; Culture and Society of World Cities, Urban Planning and Sustainable Environments; Contemporary Urban Issues: Problems and Solutions.
During the 2009-10 academic year, Cottier took Introduction to International Politics with Giulio Gallarotti, professor of government, tutor in the College of Social Studies. Gallarotti says his classes provide an experience in social engineering and activism, and stress the application of knowledge to real world situations and problems.
"Charlotte, like many Wesleyan students, is among a special group of people in this society of self-absorbed youth who find individual meaning and happiness in applying themselves to make a better world for the rest of us," Gallarotti says. "I applaud what Charlotte has done."
Cottier used to joke with her family that her career goal "was to save the world. But thinking about it now, the world doesn't need saving, it needs citizens with consideration, compassion, and the flexibility to rethink and grow," she says. "I plan to continue thinking about what I can do for the world, because this semester it did a whole lot for me."