Kuenzli Author of Nabis and Intimate Modernism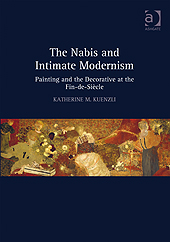 Katherine Kuenzli, associate professor of art history, is the author of The Nabis and Intimate Modernism: Painting and the Decorative at the Fin-de-Siecle, published by Ashgate, 2010.
According to the publisher,"this is the first book to provide an in-depth account of the Nabis' practice of the decorative, and its significance for 20th-century modernism."
"Over the course of the 10 years that define the Nabi movement (1890–1900), its principal artists included Edouard Vuillard, Pierre Bonnard, Maurice Denis, Paul Sérusier, and Paul Ranson. The author reconstructs the Nabis' relationship to Impressionism, mass culture, literary Symbolism, Art Nouveau, Wagnerianism, and a revolutionary artistic tradition in order to show how their painterly practice emerges out of the pressing questions defining modernism around 1900. She shows that the Nabis were engaged, nonetheless, with issues that are always at stake in accounts of nineteenth-century modernist painting, issues such as the relationship of high and low art, of individual sensibility and collective identity, of the public and private spheres.
"The Nabis and Intimate Modernism is a rigorous study of the intellectual and artistic endeavors that inform the Nabis' decorative domestic paintings in the 1890s, and argues for their centrality to painterly modernism. The book ends up not only re-positioning the Nabis to occupy a crucial place in modernism's development from 1860 to 1914, but also challenges that narrative to place more emphasis on notions of decoration, totality and interiority."