Men's Hockey to Play in 1st NESCAC Semi-Final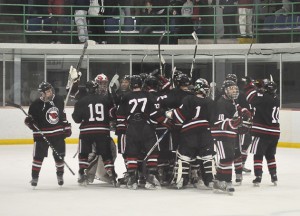 Wesleyan's men's ice hockey will play in its first NESCAC semi-final ever when it takes on No. 2 seed Williams on March 5.
It is just the latest in a series of firsts by this squad. They began their record-setting run by Jan. 15 by knocking off Middlebury for the first time in 35 all-time meetings with a 4-3 overtime decision. On Jan. 21, the Cardinals defeated defending national champion Norwich 5-2, which was the first time a Wesleyan men's hockey team had beaten a team after they had won a national championship.. The string of firsts continued on Feb. 12, when the Cardinals downed the Bowdoin Polar Bears fort the first time on the road. Most recently, Wesleyan won a first-round NESCAC tournament game in its fifth trip to the playoffs, downing top-seeded Hamilton, 5-2, Feb. 27. Another first, as a number 8 seed had never beaten a number 1 seed in the opening round of the NESCAC hockey tournament.