Prager '84 on "Sex, Drugs, and Sea Slime"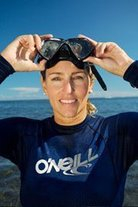 Marine scientist and educator Ellen Prager '84 is the author of Sex, Drugs, and Sea Slime: The Oceans' Oddest Creatures and Why They Matter, just published by University of Chicago Press.
She introduces the reader to a variety of fascinating and often strange creatures that live in the depths of the ocean—from tiny but voracious arrow worms whose rapacious ways may lead to death by overeating, to the lobsters that battle rivals or seduce mates with their urine, to the sea's masters of disguise, the octopuses. Prager examines the ways these sea inhabitants interact as predators, prey, or potential mates. Her book elucidates the crucial connections between life in the ocean and humankind, in everything from our food supply to our economy, and in drug discovery, biomedical research and popular culture.
Prager recently talked about her book on NPR's Fresh Air, and she revealed the dangers of antagonizing a hagfish.She said: "When it's threatened or in danger or gets injured, it produces — very quickly — huge amounts of slime. … in just a few minutes, it can fill up seven buckets full of gooey, slimy gunk."
Prager will present a WesSeminar about her book at Wesleyan's Reunion & Commencement 2011 on Saturday, May 21, 2011 (Kerr Lecture Hall, Shanklin 107) at 9 a.m. Her niece, Liz Conrad, will be graduating.