Douglas J. Bennet '59 Named to American Academy of Arts and Sciences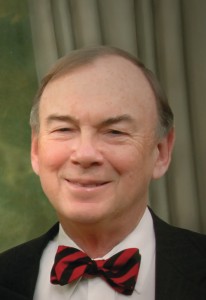 Former Wesleyan President Douglas J. Bennet '59 has been named a 2011 member of the American Academy of Arts and Sciences (AAAS).
As one of 212 new AAAS members, Bennet joins one of the world's most prestigious honorary societies and leading centers for independent policy research.
"It is a privilege to honor these men and women for their extraordinary individual accomplishments," said Leslie Berlowitz, Academy President and William T. Golden Chair. "The knowledge and expertise of our members give the Academy a unique capacity – and responsibility – to provide practical policy solutions to the pressing challenges of the day. We look forward to engaging our new members in this work."
After earning a B.A. from Wesleyan, Bennet received a master's degree from the University of California, Berkeley, and a Ph.D. in history from Harvard University. He is also the son of a Wesleyan alumnus and the father of two Wesleyan alumni.
Active in government service, Bennet was assistant secretary of state for international organization affairs when elected to the Wesleyan presidency. Prior to that he was the chief executive officer and president of National Public Radio (NPR) for ten years, during which the number of listeners tripled, the number of member stations doubled, and he raised enough funds so that NPR did not have to depend totally on federal money.
Prior to his years at NPR, he had been the assistant to the economic adviser for the Agency for International Development, special assistant to U.S. Ambassador to India Chester Bowles, assistant to Vice President Hubert H. Humphrey, assistant to Senators Thomas F. Eagleton and Abraham Ribicoff, assistant secretary for congressional relations in the State Department, and head of the Agency for International Development.
Bennet served as Wesleyan's president from 1995 until 2007. While president he oversaw the $281 million Wesleyan Campaign, which enabled Wesleyan to add 20 new faculty positions, create 140 new scholarships, and established six endowed professorships. Bennet also presided over more than $200 million in construction and renovation projects on campus and the creation of the Green Street Arts Center in Middletown's north end.
More information on the award and AAAS can be found here.