Chan, Higgins, Plous Honored with Binswanger Awards for Excellence in Teaching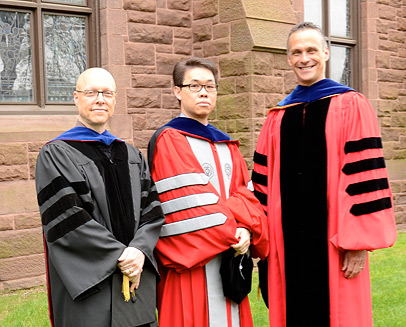 Every year Wesleyan recognizes outstanding teaching with three prizes awarded at Commencement. These prizes, made possible by gifts from the family of the late Frank G. Binswanger Sr., Hon. '85, underscore Wesleyan's commitment to its scholar-teachers, who are responsible for the university's distinctive approach to liberal arts education.
Recommendations are solicited from alumni of the last 10 graduating classes, current juniors and seniors, and current graduate students. Recipients are chosen by a selection committee of emeriti and current faculty members, as well as members of the Alumni Association Executive Committee.
This year, Wesleyan honored Wai Kiu Chan, associate professor of mathematics; Scott Higgins, associate professor of film studies; and Scott Plous, professor of psychology, for their excellence in teaching.
Wai Kiu Chan, an expert in number theory, received his B.Sc. and M.Phil in mathematics from the University of Hong Kong and a Ph.D. in mathematics from the Ohio State University. He joined the Wesleyan faculty in 1999 and has taught a diverse array of courses, including calculus and linear algebra for undergraduates and number theory for graduate students.
The author of more than 20 research papers, Professor Chan focuses his research on the arithmetic theory of quadratic forms and related areas, such as lattices in Euclidean spaces, modular forms, and linear algebraic groups. His work has appeared in Journal of Number Theory, Journal of the London Mathematical Society, Compositio Mathematica, Transactions of the American Mathematical Society and other publications.
He was an organizer of the Second International Conference of the Algebraic and Arithmetic Theory of Quadratic Forms, held in Chile in 2007. He also served as an editor of "Quadratic forms: algebra, arithmetic, and geometry," the conference's proceedings.
Scott Higgins joined the Wesleyan faculty in 2000. He has a B.A. in English and cinema studies from Oakland University's Honors College, and earned his master's and Ph.D. in film studies at the University of Wisconsin-Madison. He studies the history of popular cinema with an emphasis on aesthetics.
His courses include The History of World Cinema, Classical Film Theory, The Silent Film, The Cinema of Adventure and Action, and The Horror Film.
Professor Higgins is author of Harnessing the Technicolor Rainbow (2007), and editor of Rudolf Arnheim for Film and Media Studies (2011). He is at work on a book titled Matinee Melodrama: How Flash Gordon Invented Contemporary Cinema, about Hollywood serial films of the 1930s-1950s.
Scott Plous holds a B.A. in psychology from the University of Minnesota and a Ph.D. in psychology from Stanford University. He joined the Wesleyan faculty in 1990 and has research interests in basic and applied social psychology. He teaches introductory and advanced courses in social psychology and has previously received the American Psychological Foundation's Award for Distinguished Teaching, the Carnegie Foundation's Connecticut Professor of the Year Award, and the 1998 Binswanger Prize.
Professor Plous has published The Psychology of Judgment and Decision Making (1993), Understanding Prejudice and Discrimination (2003), and numerous journal articles. Currently, he serves as executive director of Social Psychology Network (SocialPsychology.org), an Internet-based educational organization founded and operated at Wesleyan. With more than 1,600 members from 44 countries, the Network is now the largest online community in social psychology and has become a leading voice for socially engaged teaching.