Robert and Margaret Patricelli Honored with Baldwin Medal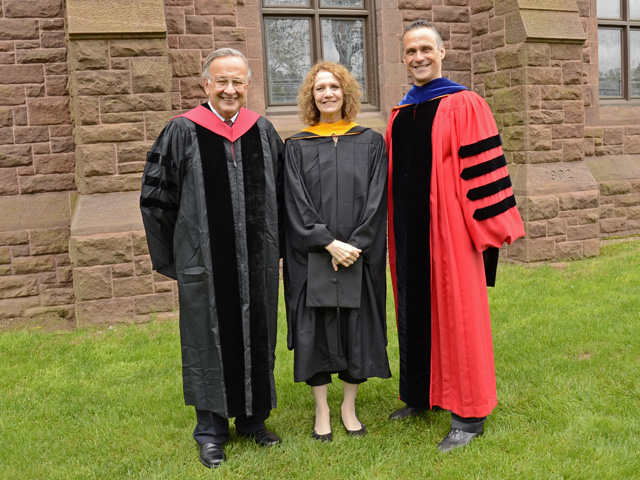 Robert 61, P'88, P'90 and Margaret Patricelli are among the Hartford area's leading citizens and friends of Wesleyan. Their philanthropic and service activities have ranged from the arts to a science museum; from hospitals and educational institutions to programs that assist low-income neighborhoods.
For their efforts, President Michael Roth awarded them with the Baldwin Medal during commencement ceremonies May 22. The Baldwin Medal pays tribute to the late Judge Raymond E. Baldwin '16. Baldwin was the only man to have held the offices of Connecticut governor, U.S. senator and chief justice of the Connecticut Supreme Court. First awarded September 20, 1981, during the opening convocation of Wesleyan's Sesquicentennial, the Baldwin Medal is the highest honor Wesleyan's alumni body presents for extraordinary service to Wesleyan or for careers and other activities which have contributed significantly to the public good. Recipients are selected by an ad-hoc committee of the Wesleyan University Alumni Association consisting of the Chair of the Association, an Alumni-Elected Trustee appointed by the Chair and the President of Wesleyan University.
Robert Patricelli is chair and chief executive officer of Women's Health, USA. He previously was founder, chair, and CEO of both Value Health, a NYSE company and the nation's leading company in specialty managed care (sold in 1997), and Evolution Benefits, a provider of electronic payment solutions (sold in 2010). After graduating from Harvard Law School, he began his career in the federal government, starting as a White House Fellow and then serving as minority counsel to a U.S. Senate Subcommittee, deputy under secretary of Health, Education and Welfare, and administrator of the Urban Mass Transit Administration. He then joined CIGNA Corp., rising to executive vice president of the parent company and president of the health care group.
At Wesleyan, he served as a trustee for 15 years and is now an emeritus trustee. In 1986, he received Wesleyan's Distinguished Alumni Award. He and Margaret are major donors to Shining Hope for Communities, founded by Wesleyan students to ameliorate conditions in the Kibera slum outside Nairobi. Margaret is board chair and Robert is a board member, and Shining Hope's facilities, which they have visited, include "Margaret's Safe Place" for housing vulnerable girls. In addition, the Patricelli '92 Theater is named in honor of Robert's father, Leonard J. Patricelli '29.
Mr. Patricelli's many other affiliations include service as a director of numerous companies and nonprofit entities including Newman's Own Foundation, Newman's Own food company, Northeast Utilities, the MetroHartford Alliance, and the Connecticut Science Center. He is chair of the board of the Bushnell Center for the Performing Arts in Hartford, and a member of the Institute of Medicine of the National Academy of Sciences. He likes to cook and drive tractors on their home on Folly Farm in Simsbury, Conn.
Margaret Patricelli is president and CEO of the Robert and Margaret Patricelli Family Foundation, which focuses on programs designed to assist low-income neighborhoods in Hartford. It played a leading role in creating the innovative TeacherDollars program in Hartford public schools, which awards principals and teachers in high performing Hartford schools special debit cards that allow them to purchase classroom supplies and equipment. The foundation also created GospelFest at the Bushnell (featuring an all-Hartford 40-church gospel choir), and provided initial funding for Hartford's CrimeStoppers Program.
Ms. Patricelli previously worked in health planning at the Harvard School of Public Health and the Massachusetts Department of Public Health, marketing and communications at Connecticut General and CIGNA, and public affairs at ConnectiCare, where she created the ConnectiCare Foundation.
She is active in numerous local, national, and international philanthropic activities, having served on the boards of the Mark Twain House and Museum, Foodshare, Planned Parenthood of Connecticut, the Hartford Ballet, and the Simsbury Public Health Commission. She currently serves on the boards of Tufts University's Friedman School of Nutrition Science and Policy, and the Friends of Simsbury Public Library. Ms. Patricelli has made several trips as a volunteer health worker in rural communities in Haiti. She is a graduate of Goucher College and has a master's degree in public health from the University of California, Los Angeles. She likes cats and rhythm and blues.