D'Andrea to Direct Counseling, Psychological Services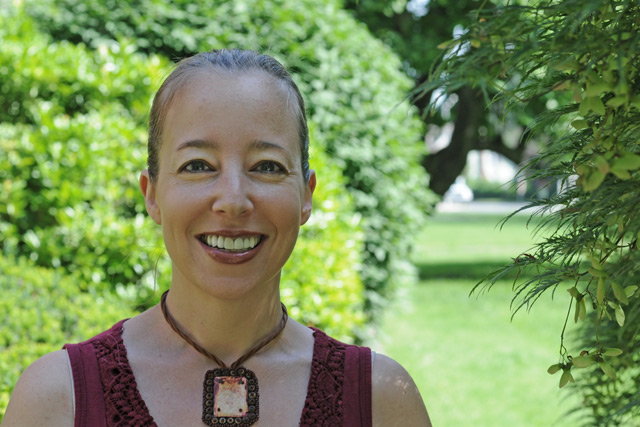 Q: Jennifer, you will be appointed the new director of Counseling and Psychological Services (CAPS) on July 1. How do you describe your new role?
A: It's such an exciting time for me to join CAPS in a director role. Our office will be undergoing many changes over the upcoming months, and I'm thrilled to be a part of it. I will be facilitating a changeover to a community mental health model that continues to prioritize therapy while simultaneously expanding the role of education, prevention, and outreach. All of us in the office are excited about new opportunities to collaborate with our colleagues throughout the university – faculty, residential life, PSafe, administration, and student groups – as well as our partners in the Middletown community.
Q: CAPS is formerly known as the Office of Behavioral Health for Students (OBHS). What mental health services does CAPS offer to Wesleyan students?
A: CAPS offers time-limited individual and group therapy, outreach, prevention, education, early identification and intervention, and consultation. The office has always valued and focused upon clinical work, and we are now planning ways to enhance and expand our activities in outreach and education while still meeting students' needs for therapeutic services.
Q: Why is it important for a university to have mental health services available?
A: One of our core goals is the promotion of normal development, which includes helping students negotiate the various life challenges they face within the context of a highly rigorous academic environment. Additionally, national epidemiological data clearly indicate that today's college students are coping with a variety of mental health issues, including anxiety, depression, eating disorders, and substance abuse. The need for high quality mental health services within a university setting is unequivocal.
Q: How many students access counseling and psychological services during the academic year? Are there "typical" situations they seek your services for?
A: In the 2010-2011 academic year, CAPS saw 556 students for a total of 2,354 visits. This is an extremely impressive statistic considering our office was staffed by two full-time psychologists and two part-time psychologists. We're extremely busy! Students seek our services for a variety of reasons – many struggle with the adjustment to college, while others are coping with family or parental conflict. Relationship issues are very common and may concern romantic partners, roommates, or friends. Many, many students deal with depression and/or anxiety. Concerns with eating and body image are common, and other students present to our office due to problems resulting from alcohol and/or substance use. Some have experienced trauma and need support processing it and moving forward in their lives.
Q: How many employees work in the CAPS department, and how are you affiliated with the medical-aspect of the Davison Health Center? Also, where is CAPS located, and what's the best way for a student to contact you? Do students need to make an appointment or can they drop in?
A: We currently have two full-time psychologists, one part-time psychologist, and myself in the director role. I will continue to see students for therapy in my new position. We also have our awesome administrative assistant Chariklia Flanagan, who keeps everything running smoothly. This summer we are interviewing candidates for a new therapist/sexual assault resource coordinator position, a full-time position within CAPS with both clinical and outreach responsibilities. CAPS works together with DHC to provide integrated care to students, and as we shift our model we will be seeking new avenues to collaborate with our colleagues in the provision of effective, multidisciplinary, holistic care to Wesleyan students. CAPS is located at 327 High St on the 2nd floor – just above DHC. To make an appointment, students should call 685.2910. We do have limited daily availability for urgent concerns. We also have 24/7 on-call availability for emergencies.
Q: You've worked as a part-time psychotherapist at Wesleyan for the past two years. What are your thoughts on working at Wes full-time?
A: I'm thrilled to join the Wesleyan community on a full-time basis. Over the past two years I've really enjoyed working with students and my colleagues at CAPS and DHC, and I'm looking forward to this new opportunity to immerse myself more fully in life at Wesleyan.
Q: Where did you attend college and where were you working prior to Wesleyan?
A: I have a B.A. in psychology from College of the Holy Cross, an M.Ed. in low incidence disabilities from Boston College, an M.A. in clinical psychology from Fordham University, and a Ph.D. in clinical psychology from Fordham University. I served as the top administrative leader for two acute adolescent psychiatric units at Riverview Hospital for Children and Youth in Middletown, and prior to that I was the clinical director at Natchaug Hospital¹s residential treatment facility. I completed my postdoctoral specialization in the early detection and prevention of psychotic spectrum disorders at Yale Medical School. While at Fordham University, I spent one of my clinical training years at the University Counseling Center.
Q: How is your job rewarding?
A: First and foremost I am a therapist, and one of the best parts of my new job is that I can continue to see students in psychotherapy. I've really enjoyed being a part of CAPS over the past two years, and i feel very fortunate to have the opportunity to play an important role in this new time of change. My colleagues are excellent clinicians with a wealth of experience in college mental health, and I am privileged to work with them. The changes to our office will improve the care we provide to students as well as expand the training and consultation we provide to the larger university community. I think it's going to be a lot of fun.
Q: What are your hobbies/interests? Where are you from, and do you have family that you'd like to mention? Any plans for the summer?
A: I grew up in Connecticut and then got out as soon as possible! I spent many years living in urban settings – Minneapolis, Boston, and New York City – and I thought I would stay a city girl forever. However, the universe had other plans for me, and here I am. I love-love-love to garden (flowers, not vegetables), and I have a menagerie of various pets. A year and a half ago I became the mother of my amazing twin daughters Lily and Maddy, who were born in Ethiopia. We've been a family since they were six months old. This summer I'll be splitting my time between getting settled at CAPS, chasing my children around and weeding.