With Bird Blind, Architecture Students Help Nature Lovers See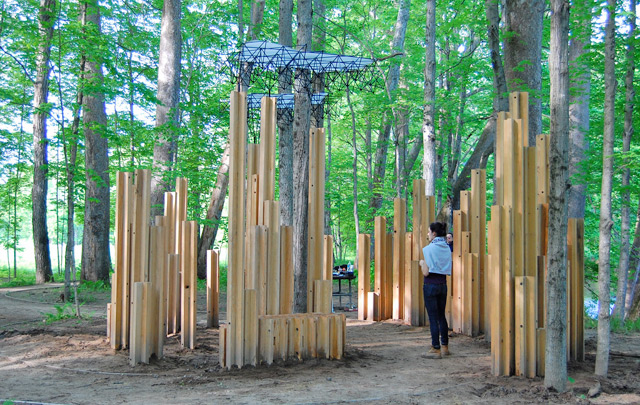 Lots of people like watching birds. Understandably, birds don't always like people watching them.
For the Audubon Center at Bent of the River, a 700-acre nature preserve in Southbury, Conn., this presented a problem: the swallows and kingfishers along a popular trail were perpetually startled by human visitors. Assistant Professor of Art Elijah Huge and the 11 students in his Architecture II class devised a solution – a chic bird blind they designed and built from scratch.
The structure represents the third major design-build project for North Studio, a faculty-student design collaborative Huge founded in 2006 that is cultivating a niche in architectural design for nature preserves.
Previously, Huge and his North Studio students, who are as likely to major in sociology or German studies as in studio art, conceived and built an award-winning multi-level bird-viewing platform for an Audubon Society sanctuary in Portland, Conn. A subsequent iteration of the class designed and built a Sukkah, or temporary Jewish ritual structure, at Wesleyan.
Nature preserves work well as clients for North Studio, which tries to balance three objectives – producing design research, testing ideas in the real world and implementing situation-specific, environmentally responsible work. Projects are of a scale that's manageable in the course of a single, intense, semester.
"We condensed a year's worth of work into three months," says Charles Ellis '12, a studio art major from Los Angeles who was a member of the class.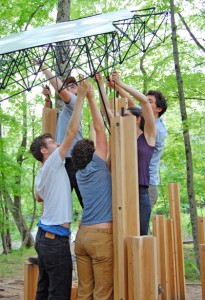 Says Huge, "I do my best to warn them what they're getting into."
North Studio's previous design-build projects required careful contemplation of certain aspects of structure – in the case of the first bird-viewing station, the platform's footing surface, and, in the case of the Sukkah, the roof. The bird blind – a structure intended at once to obscure and reveal – focused on walls.
"That was the core design issue," says Huge, a Yale-trained architect who worked for the international firm of Pelli Clarke Pelli before joining the Wesleyan faculty in 2006. "This was about creating a permeable wall."
And also a durable four-season structure that wouldn't wash away – the site for the bird blind is squarely in a flood plain.
Composed primarily of cypress, steel and sail cloth, the completed structure is so open, and its roof so small, that it calls to mind sculpture as much as shelter. Still, it has seats and a small roof, and ably serves as a resting station and shelter for visitors to Bent of the River, including the elderly and the very young.
"Bird blinds are typically extremely closed off for practical reasons," says Gil Sunshine '12, a sociology and studio art double major from Hastings-on-Hudson, New York, and a member of the class. "Finding the balance between the seclusion necessary for a functional bird blind and the openness that would be desired of a gathering space was one of the biggest challenges we faced."
So were logistics. Bent of the River is located about 45 minutes by car from Middletown. In addition, access to the site, along a sharp bend the Pomperaug River, requires a foot journey. To take advantage of Wesleyan's facilities while minimizing the number of trips between the sites, Huge and the students prepared a modular design that could be fabricated and partially assembled at the art studios in Wesleyan's Center for the Arts. All told, the class produced more than 140 cypress columns of varying heights that had to be cut and fitted precisely.
"The assembly process for this incredible array of columns had to be right-on, " says Huge, who is now planning next years' project, which might (or might not) have to do with birds.
No doubt it will be something refreshingly original.
"We started by thinking of the structure as a very traditional 'building' type of bird blind, one that had a roof, three sides and was camouflaged in some way in the viewing direction," says Leslie Kane, director of the Audubon Center at Bent of the River. "…The end result was far, far from anything any of us had envisioned, but was, without question, a great structure. We are extremely pleased."
More information on the project is featured in a March 23 Wesleyan Connection article.
A Q&A with Elijah Huge is featured in a Dec. 16, 2010 Wesleyan Connection article.