Van Gogh, Civil War, Volcanic Massifs Topics of Lifelong Learning Courses

Enrollment for the Wesleyan Institute for Lifelong Learning (WILL) Fall 2011 semester is open.
WILL is chartered to provide educational opportunities outside of formal degree-granting programs to members of the broader community. WILL classes are taken for interest, not for credit. Classes are small with an informal atmosphere.
Faculty include Wesleyan faculty, emeriti faculty, and similarly qualified members of the community. The courses are short, intellectually-stimulating and lively.
The course offerings cover the arts, social sciences, literature, science and mathematics.
Six courses and one all-day program are included in the fall listing, which include: I Love a Mystery, The Paintings of Vincent van Gogh: Images for Life, Dürer, Rembrandt, Picasso: Reconsidering the Masters at the Davison Art Center, Shakespeare's Cleopatra, Egypt's Harlot Queen?, Art and Geology of Old Volcanic Massifs in Connecticut, " People don't do such things!"-Ibsen's Hedda Gabler and Civil War Narratives Come Alive.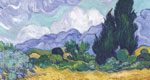 The one-day program, Civil War Narratives, will give particular attention to the engagement of Middletown and Connecticut residents in that epic struggle—on the battlefield and on the homefront. The afternoon will be spent on a guided tour of sites in Middletown of significance to the war. The program will be taught by Richard Slotkin, the Olin Professor of English, professor of American studies, emeritus at Wesleyan; David Naumec museum consultant and adjunct history instructor; Dione Longley, former director of the Middlesex County Historical Society in Middletown; Deborah Shapiro, executive director of the Middlesex County Historical Society; and Peter "Buck" Zaidel, collector of Civil War objects and images.
Karl Scheibe, director of the Susan B. and William K. Wasch Center for Retired Faculty, is overseeing the institute.
Enrolled students will have access to the academic resources of Wesleyan, including Olin Library. Classes, which cost between $50 and $130, are conveniently scheduled in the afternoons and early evenings.
Most courses will be held in the Wasch Center for Retired Faculty on Lawn Avenue. For more information on the program, e-mail will@wesleyan.edu or call 860-685-3005.