Wesleyan Welcomes First-Year Students on Arrival Day (with videos)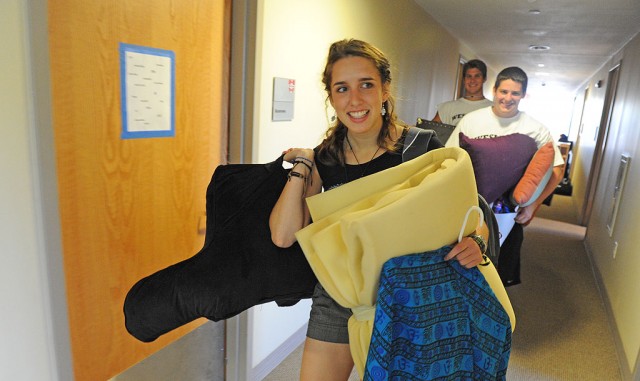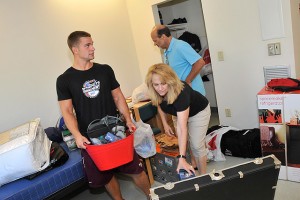 At 8:50 a.m., Jimmy Albrecht '15 began lugging in boxes of clothing, canvas totes of athletic equipment, a 3.1 cubic-square-foot fridge, an X-Box, microwave, bedding, toiletries and six – make that eight – pairs of shoes, into his new student residence in Clark Hall.
"Oh, there's another pair over there. And there's another pair. Jimmy, you're going to need a shoe rack," says his mother, Sharon, who drove Jimmy to Wesleyan from their home in Chicago, Ill.
Jimmy's father, George, also helped with the unloading. "Our Jeep was so packed with stuff, there wasn't even room for a toothbrush back there," George says.
Jimmy Albrecht, who will play hockey at Wesleyan, joined 810 other Class of 2015 students for Arrival Day 2011. Students and their families began trickling in around 8 a.m. with carloads of back-to-school supplies. Eighty-seven international students arrived three days prior for International Student Orientation.
In addition, Wesleyan welcomed 18 transferred sophomores, seven transferred juniors, five visiting international students and four college-exchange program students on Arrival Day.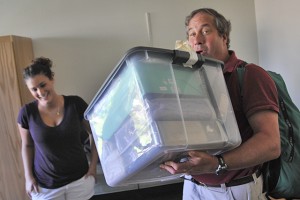 Elizabeth Binswanger '15 and her parents, David and Dorothy, traveled from Philadelphia, Pa. to Middletown Aug. 30. Together, they hauled in "lots of clothes," bedding, food and a computer.
Elizabeth wasn't the first in her family to move into a Wesleyan student residence. Her cousins Katie Binswanger '15 and Zachary Binswanger '13 are current students. Her brother, Peter, graduated in 2010, and her grandfather, John Binswanger, graduated in 1954. She also has several aunts, uncles and cousins who attended Wesleyan.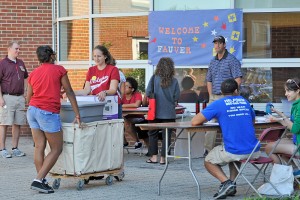 "I have no idea what I'm going to study, but I guess you can say that we like your school," Elizabeth says.
Ryan Sblendorio '15 made the move from Mahwah, N.J. By 8:40 a.m. he was unpacking the necessities – cookies, cup-o-noodles, granola bars, a 12-pack of Coke, workout clothes, wrestling equipment and a 37-inch television – into room 206 Butterfield.
"I looked at other colleges – Brown, Columbia, N.Y.U., Rutgers and Penn State, but I chose Wesleyan because it's great school and it's very welcoming," he says.
His parents, Glenn and Rosemary, didn't mind the short 1 hour, 45 minute commute to campus. "This is our third child to go to college and Ryan's made it easy for us," Rosemary says. "He's been very cooperative."
Down the hall in 228 Butterfield, Oluwaseun Odubiro '15 and his father, Olufemi, spent their morning setting up a mini-fridge, unpacking clothing, a guitar and a clear plastic tub filled with granola, chips, gum and fruit juice. Oluwaseun, of Brooklyn, N.Y., chose Wesleyan for its small size. He plans to major in chemistry.
"This is my second child to go to college, and I am excited and happy that he's here," Olufemi says. Watch a time-lapse video of Oluwaseun and Olufemi setting up the dorm room in the video below:
[youtube width="640″ height="420″]http://www.youtube.com/watch?v=ykkPa9zv_AU&feature=youtu.be[/youtube]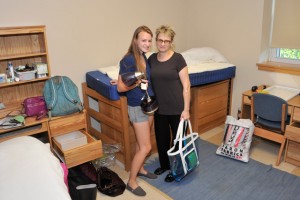 At 10:15 a.m., Eliza Sankar-Gorton '15 felt that she was half-way finished unpacking her items into her Fauver Field room. "Liza" and her mother, Pamela, made the five-hour trek from Narberth, Pa. with a mini-van packed with pillows, bedding, school supplies, snacks and clothing.
Liza, who is sharing a room with two other students, used Facebook to "meet" her roommates ahead of time.
"I brought the microwave and rug, and the other two will bring a printer and a fridge. We decided not to have a TV," Liza says.
Wesleyan student-athletes, staff and faculty spent the morning welcoming families and new students. President Michael Roth will delivered a welcome address to families at 3:30 p.m.
To view dozens more photos of Arrival Day 2011, check out Wesleyan's Flickr album or Wesleyan on Facebook. Videos of Arrival Day (created by Wesleyan's New Media Lab and Wesleyan University Communications are below).
[youtube width="640″ height="420″]http://www.youtube.com/watch?v=2tntYdoM8oQ&NR=1[/youtube]
[youtube width="640″ height="420″]http://www.youtube.com/watch?v=i81N2Diw514[/youtube]