Wesleyan Presents Prints of Julie Mehretu, Masculinity in Sports Exhibit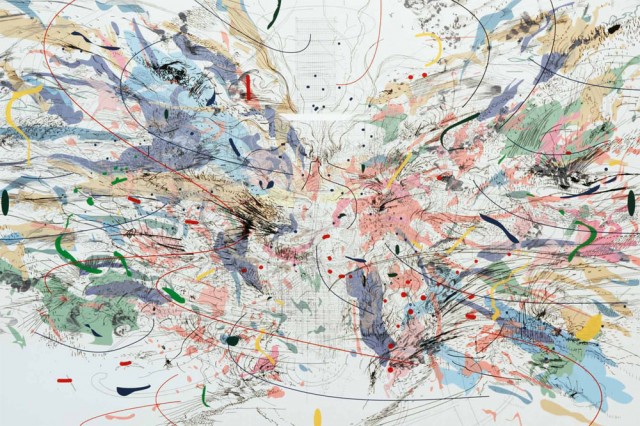 Wesleyan will present two traveling exhibits this fall.
The Davison Art Center gallery will host Excavations: The Prints of Julie Mehretu, Sept. 16-Dec. 11. Mehretu is best known for her large-scale paintings and drawings, which layer maps, urban planning grids and architectural renderings with whorls of abstract markings and bright shapes of color. This the first-ever comprehensive exhibition of prints produced by the artist thus far in her career.
A gallery talk is scheduled for 5:30 p.m. Oct. 5 with Cole Rogers, artistic director and Master Printer at the Highpoint Center for Printmaking. Rogers will speak on his experience working with the artist, and the complex technical and aesthetic interweaving of her prints.
Accompanying the show is a beautiful, 44-page color catalog with plates of the prints and an essay by Siri Engberg, curator at the Walker Art Center in Minneapolis, Minn. In her catalog essay, Engberg traces this visual vocabulary back to Mehretu's graduate studies at the Rhode Island School of Design, where she first worked with intaglio printmaking and the necessity of breaking imagery down into its component layers. Since that time, the artist has experimented with many processes including chine collé, screen printing and lithography.
Mehretu has completed collaborative projects at printmaking studios across the country, among them Highpoint Editions, where she produced Entropia (review) and Entropia: Construction. Today, printmaking is a vital part of Mehretu's creative process. As Siri Engberg notes in her essay: "The printshop has become a space for examining her body of work and excavating it to create new layers of visual and conceptual meaning."
Excavations: The Prints of Julie Mehretu is organized by Highpoint Editions, Minneapolis. Its presentation at the Davison Art Center is made possible by the Hoy Family Afro-American Visual Arts Fund and the Lemberg Fund.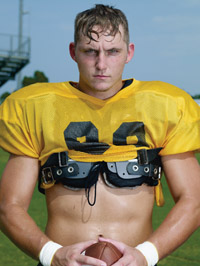 The Ezra and Cecile Zilkha Gallery will host the exhibit Mixed Signals: Artists Consider Masculinity in Sports Sept. 9-Oct. 23. This exhibit is organized by Independent Curators International of New York. Christopher Bedford is the guest curator.
Photographer Collier Schorr has said, "I want to show the whole temperature of masculinity because–and I can only approach it as a woman–from the outside, masculinity has been depicted in very black-and-white terms." Accordingly, the artists selected for this exhibition reject such comfortable "black-and-white" imagery, and ask us to think beyond the images we encounter in Sports Illustrated or Nike ads. Catherine Opie focuses on the dramatic spectacle of high school football, zeroing in on a tense moment of anticipation just as the players are ready to spring into action.
Many artists and theorists have argued that social identities–including race, gender and sexuality–are performed and coded. However, the male athlete has been overlooked by art historians and curators until fairly recently, because it is only in the past decade that a critical mass of art addressing this subject has grown large enough to allow for such an exploration.
The exhibit is co-sponsored by the Art History Program of the Department of Art and Art History, Physical Education Department and the Center for Film Studies. The Zilhka Gallery is open from noon to 4 p.m. Tuesday through Sunday.
The Mansfield Freeman Center for East Asian Studies gallery is also featuring the exhibition, "Metamorphosis: the Collaboration Between Photographer Robert Glenn Ketchum and the Suzhou Embroiderers" through Dec. 9. More information on this show is online here.