Book by Wasson '03 Showcases Master Film Director Paul Mazursky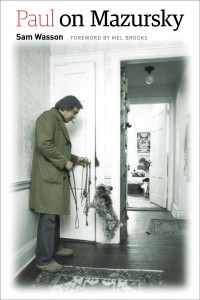 In his new book, Paul on Mazursky (Wesleyan University Press), film scholar Sam Wasson '03 talks to writer and director Paul Mazursky about his substantial career, which includes such memorable movies as Bob & Carol & Ted & Alice, Harry and Tonto, An Unmarried Woman, Moscow on the Hudson, Down and Out in Beverly Hills and many more. His rich human comedies, grounded in pure emotion, are hard to classify and contain scenes that are simultaneously sincere and hilarious, realistic and romantic.
His works represent Hollywood's most sustained comic expression of the 1970s and 1980s but they have not really been given their due until now . In the first ever book-length examination of one of America's most important and least appreciated filmmakers, Wasson delves into Mazursky's oeuvre one film at a time and touches upon the director's life in and out of Hollywood.
In addition to 19 fascinating interviews with the director, the book contains talks with Mel Brooks (who provides the foreword), the late Jill Clayburgh (who was Oscar-nominated for her fine performance in An Unmarried Woman), writer Josh Greenfeld, Meg Mazursky (the director's daughter), cinematographer Fred Murphy, and others who have worked with the director over the years.
The volume contains a detailed filmography and a number of never-before-seen photos.
Wasson is the author of The New York Times best seller, Fifth Avenue, 5 A.M.: Audrey Hepburn, Breakfast at Tiffany's, and the Dawn of the Modern Woman (Harper) and A Splurch in the Kisser: The Movies of Blake Edwards (Wesleyan University Press). He is working on a biography of Bob Fosse.