Sociology's Greg Goldberg Expert on Media and Society, Political Economy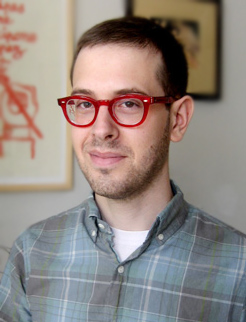 Greg Goldberg joined the Sociology Department as an assistant professor. His research interests include political economy, social theory, media and popular culture, digital and network technologies and music and sound.
This semester he is teaching Introductory Sociology and Media and Society.
"Thus far, I've found the students at Wesleyan to be ambitious, open, creative and independent thinkers; they are truly a pleasure to teach," he says. "They have sharp critical thinking skills, and are game for anything I can think to throw at them. I've been continually impressed by their ability to engage complex social questions and issues, and I appreciate that so many students are dedicated to issues of social justice, which is one of the things that attracted me to Wesleyan."
Goldberg received his Ph.D. in sociology and a certificate in interactive technology and pedagogy from the City University of New York in 2009. His dissertation was titled "Own Nothing, Have Everything: Peer-to-peer Networks and the New Cultural Economy."
Goldberg worked as a visiting assistant professor at Wesleyan since Fall 2010, and as a adjunct assistant professor and adjunct lecturer at CUNY since 2009. He's taught classes on mass communications, mass media, political economy of culture in the digital age.
Coming from an interdisciplinary background, where he received a B.A. from the Gallatin School at NYU, Goldberg values opportunities to engage with faculty from other disciplines, and Wesleyan's administration and faculty really facilitate that process, he says.
"The Sociology Department here allows me to integrate thoroughly my teaching practice with my research interests, which I think benefits the students greatly, while also providing a forum to think through some of the questions at the forefront of the discipline," he says.
Goldberg regularly presents his research at academic conferences. Most recently, he presented a paper on the disappearance of network scholar Phil Agre, and the response his disappearance engendered, at the Cultural Studies Association annual conference in Chicago in 2011. He will be addressing this theme for the College of Social Studies on Dec. 5.
Goldberg is a practicing musician and has written, recorded, and self-released two albums, with a third slated for release in 2012. His current band, The Ballet, has been performing since 2005, including an international tour to Germany, Sweden, and the U.K. They have been written-up in publications such as Time Out New York and Out Magazine. Goldberg also has produced several original soundtracks for interactive media artist (and recipient of Canada's prestigious Sobey award) Daniel Barrow.