De Boer Curates "New Haven's Sentinels" Exhibit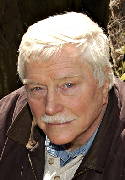 In the 19th century, the guardian hills of New Haven known as East and West Rock, attracted much attention from poets, painters and scientists. More than two dozen painters sought to capture the magic of the Rocks and the views they allowed of the city.
Jelle de Boer, the Harold T. Stearns Professor of Earth Science, emeritus, has combined these artists' works for a current exhibit at the New Haven Museum. De Boer is the author of Stories in Stone: How Geology Influenced Connecticut History and Culture.
"New Haven's Sentinels: The Art and Science of East and West Rock" opened Jan. 12. The New Haven Register features an article on the exhibit, online here.
The painters' combined output is classic American, little influenced by European styles, and represents an imaginative body of work with considerable depth.
One of the most arresting paintings has been attributed to William Guy Wall, renowned for his Hudson River Portfolio of Watercolors. With its blend of atmospheric, geologic and ecologic details, his East Rock (1834) is reminiscent of several of the best works by renowned Frederick Edwin Church.
New Haven's scientists at times sounded like poets inspired by the voice of nature. Yale's prominent geologist Benjamin Silliman described the Sentinels as "composed of precipitous cliffs of naked frowning rock, hoary with time, moss-grown and tarnished by a superficial decomposition, looking like an immense work of art."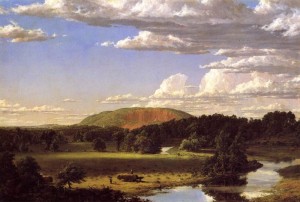 East and West Rock are the remains of igneous masses dating back to a volcanic period, some 201 million years ago. When the North American and African continents began to separate new faults were created that penetrated to great depth where they tapped reservoirs of molten rock and provided pathways allowing for the magma to rise to the surface.
Locally, batches of magma remained at depth and were squeezed into contiguous sandstone formations. East and West Rock are eastward tilted sheets of basalt belonging to the latter group.
The New Haven Museum is located at 114 Whitney Avenue in New Haven, Conn. Admission is $2 for students, $3 for seniors and $4 for adults. Children under 12 are free. The phone number is 203-562-4183. For more information, visit the museum's web site at http://newhavenmuseum.org/.