Una Aya Osato '04: Tragi-Comic Clowning Around in LOL: The End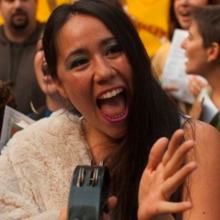 Performer, educator, and writer Una Aya Osato '04, premieres LOL: The End, a three-person production (with her father and sister), at FRIGID NY Theater Festival in February.
In her Kickstarter blog, Osato describes the production as "a funny and physical look at natural and human-made disasters through the eyes of three clowns: a place where tragedy meets comedy meets stupid."
The creator of several award winning one-woman shows, JapJAP, Recess, and Keep It Movin', Osato has performed in theaters, classrooms, community organizations, prisons, and universities. Additionally, she has taught performing arts in elementary, middle, and high schools over the past decade.
In describing her choice of protagonists for LOL:The End, Osato says, "Clowns are unafraid to fail. They continually search for answers when others tell them there is no point in doing so. They immerse themselves in every emotion, unafraid of pain and tears, always searching for joy and laughter, creating new worlds wherever they go. Overwhelmed by the magnitude of destruction we live with, our family looked to clowns with the hope that by allowing the 'idiot' to interpret for us, that we would be better able to understand our relationship to disaster and find the ways that still remain to come out hopeful and laughing."
For more information see: http://www.kickstarter.com/projects/641143418/lol-the-end and http://www.frigidnewyork.info/VenueShows.aspx?id=2.