Khan '12 Awarded Movement One to One Fellowship
In Bangladesh, more than 100,000 children die every year of intestinal diseases. About 31 million people are without access to safe drinking water and 99.9 million people lack proper sanitation. About 80 percent of the wells in more than 8,000 villages are contaminated.
Tasmiha Khan '12, founder of the Wesleyan chapter of Brighter Dawns, has spent the past four years determined to help sanitary and living conditions in a slum in Khalishpur, Khulna. Through fund-raising, partnering with NGOs and grant applications, the Wesleyan chapter has teamed up with other Brighter Dawns chapters in the country to distribute more than 1,000 sanitary kits, teach lessons on proper hygiene and install 15 tube wells and 20 latrines in the slum.
Brighter Dawns also trained local women and provided them with stipends to help maintain the infrastructure and conduct seminars in conjunction with health officials and physicians.
As a newly-awarded 2012 Movement One to One Fellow (Movement 121), Khan will have the opportunity to participate in a six-month online, collaborative experience to enhance Brighter Dawns' success from Feb. 1 to Aug. 1. Movement 121 enables fellows to discover their true strengths, collaborate of social entrepreneurial projects, and create an action plan for world change. Khan's Movement 121 project is online here.
"Through this fellowship, I hope to utilize the resources provided to further improve Brighter Dawns and thereby hoping to impact more individuals, whether that be locally or abroad," Khan says.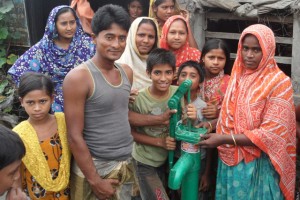 Movement 121 accepted a total of 50 Fellows, ages 18-35, into its M121 Social Leadership Academy from seven countries on four continents. Movement 121 is a social innovation company whose vision is to transform the lives of 1,000,000 people trapped in unfathomable poverty to become self-sustaining.
"The Social Leadership Academy exists to equip, inspire, and connect aspiring world-changers and social entrepreneurs to make a sustainable impact on our world," says Tony Chen, vice president and servant of Movement 121. "We are very glad to have Tasmiha as one of our fellows."
Khan, who will graduate this May with dual degrees in psychology and neuroscience and behavior, went to Bangladesh in 2008 and 2010. She is currently fundraising for another trip to Khalishpur.
Along with implementation of surveys to assess need in the area, Brighter Dawns is looking to expand its project to reach 5,500 people.
"My recent experience in Bangladesh has strongly informed my sense of self and sense of duty. It is through our efforts that the arena of public health and developing young leaders will help combat the many disparities of today, whether locally or abroad, for a brighter tomorrow," she says. "With strong faith, persistence, and dedication, these achievements have fueled my desire to constantly move forward and make a difference in the world."
In addition, Khan and other Brighter Dawn members will speak at a conference on Social Enterprise Ecosystems as Economic Development (SEEED) at Brown University, March 16-17.